'This Dress Says Yes, I Am Here' — Tems Tells Harper's BAZAAR About Her First Oscars
With her recent larger-than-life headpiece attached to her gown– taking up space was a much more literal sense at the event, social media have continued to have a field day with varying opinions about Superstar Tems' Oscars debut wearing a voluminous, sculptural gown by Ukrainian brand Lever Couture. 
In an interview with Harper's BAZAAR, Tems explains her sartorial decision to the 95th Academy Awards:
Two years ago, I would've said no to this dress. But it's my first Oscars — I am going to go all out. The dress is my way of celebrating my work, celebrating my country, and celebrating the people who are rooting for me,"  This dress says Yes, yes, I am here!
The singer's go-to stylist, Dunsin Wright, also reflects on the significance of the moment:
At the start of the year, Tems said she's entering a new era. That played on my mind as I considered the perfect outfit for the Oscars. We wanted something that felt quite delicate but powerful, something that made her feel ethereal.

I had spotted Lever Couture a while ago after their fashion show in Tokyo and instantly knew I wanted to work with them. It was a bold option, but I was confident that if anyone could wear it the way it needed to be worn, it was Tems. She is so graceful and confident, and she makes every piece her own.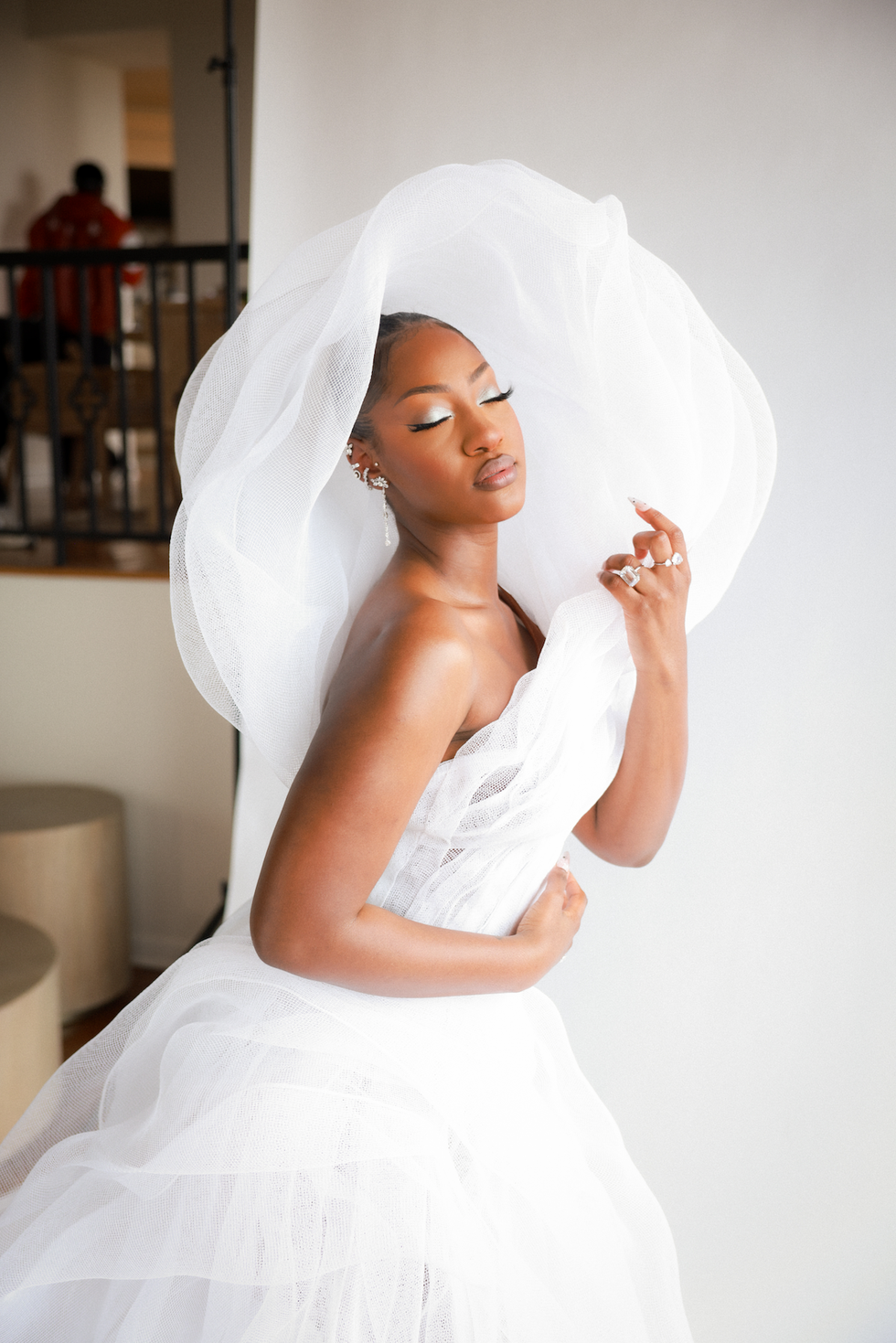 Read excerpts from the interview below.

On attending the Oscars:

When I first started out, this was not on my list of things I needed to do. But honestly, I am honoured. It's the first time I'm in this space, and it just gives me the motivation to keep going and do more and reach my maximum potential.

On the impact she's making:

My work is actually reaching places, it's making some type of impact. And that is insane! I really am just trying to keep my feet on the ground and continue running and doing things that are a hundred per cent authentic to me. Evolving, learning, growing. It's just the beginning for me.

On inspiring people:

All of this, to me, is an open door. Not just for me, but for everybody who is from where I'm from. If I can do it, they can do it. I'm happy that I got to fight, and I want to let people know that they should fight for every single thing that they believe in. It's not easy, but once you have a plan, once you know who you are and you know where you're going, every single thing sorts itself out.

Read the full issue here.

Credits

Photography: @betttencourt

Hair: @viphair_ashanti

Makeup: @kvn.luong

Dress: @lever_couture

Styling: @dunsinwright
Adekunle Gold Gifts Mum A House Worth Millions
Adekunle recently bought his mum a house worth about #110,000,000.
The music star was seen in a video posted on Instagram where he was showing his mother, the beautiful white house.
His fans and well wishers have been congratulating and wishing him well for this kind act to his mum. They also believe, from their comments that whatever someone waits for while working hard for it, would definitely come in due time.
See video below.
View this post on Instagram
Wizkid And Tems Wins 2023 iHeart Radio Award
Wizkid and Tems have been named the joint winners of the newly created Afrobeats Artist of the Year category at the 2023 iHeartRadio Music Awards.
The 'Essence' crooners beat their compatriots Burna Boy, CKay, and Fireboy to clinch the award.
Tems also snagged a second award of the night at the ceremony which was held at the Dolby Theatre in Los Angeles on Monday.
Her collaboration with Future and Drake, 'Wait for U' won the hip-hop song of the year category.
Nigerian star, Rema who was nominated for the Best Music Video category with 'Calm Down' which featured Selena Gomez, lost to Korean group, BTS.
Davido To Launch New Collection With Puma
Davido has more surprises for his fans, recently the artist took to his Instagram page announcing the release of his latest collection with Puma called PUMA x DAVIDO.
The artist announced that his collection with the leading sport brand Puma will be officially released globally on April 7th, 2023. However, a meet and greet session will take place at Puma stores in New York on April 2nd and in London on April 6th respectively just before the show.
Davido extended his appreciation to his fans and made it known that pre-oders for his collection are now available. The link could be found on his stories for more details.
View this post on Instagram