Shrimp Mac & Cheese Recipe By Sisi Yemmie
Food and lifestyle content creator, Sisi Yemmie, has shared another insightful food vlog on her YouTube channel. In this episode, Sisi Yemmie shares how to make a "Simply Delicious" shrimp mac and cheese.
Watch the video below:
How "Akara" Became A Sacrificial Food For Brazilian gods
Akara is a popular Nigerian fritter made from bean flour that is often eaten for breakfast.
However, in Brazil, it has evolved into a sacrificial food that is offered to the gods during religious festivals. This evolution began during the trans-Atlantic slave trade, when Yoruba women who were enslaved in Brazil sold Akara as street food to earn money and break away from slavery.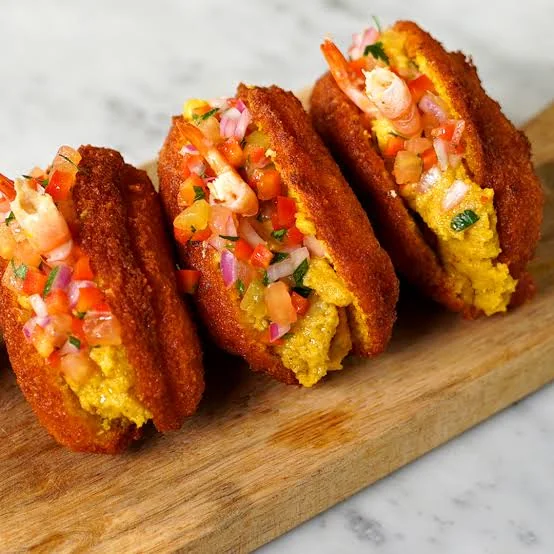 As part of slave resistance, these women would keep a portion of their earnings for themselves and give the rest to their masters. They would call out to potential buyers with "O acará jé ecó olailai ô," and over time, the name of the popular street food changed from Akara to acarajé.
The women's street food business grew and evolved, leading to the development of acarajé, which is made in the same way as Akara, using black-eyed peas, salt, pepper, and onions, blended, mixed and deep-fried. However, acarajé is split open, stuffed with shrimp, and topped with vatapá or caruru.
Today, Baianas, the descendants of these women, still sell acarajé on the streets of Bahia, Brazil, often dressed in the traditional costume of their ancestors. In the Afro-Brazilian religion of Candomblé, acarajé is considered a sacrificial food and is offered to the gods during religious festivals. Those who prepare it and offer it to the gods are most often practitioners of the religion and wear white to display their affiliation.
Photo courtesy: Feast Afrique, K's Cruisine 
How To Make Perfect Shawarma By Sisi Jemimah
As the world evolves, certain things evolve with it. Such things as methods and ways of cooking.
There have been different ways of making shawarma, but Sisi Jemimah shows us the "perfect way" to make it.
Watch the video below.
How To Make Ice Cream At Home With Joyful Cook
Don't you find it stressing to go out only to get ice cream? I'm pretty sure you do, so why don't just learn how to make ice cream at the convenience of your own home. You could even make them as a dessert.
If yes, then joyful cook will simply show you how to try out the recipe, only 3 ingredients are needed. See Video below.