Rema's "Calm Down" Reaches 1 Billion Spotify Streams
"Rema's "Calm Down" reaches 1 billion Spotify streams" should be the biggest news to his fans and Afrobeats music lovers alike.
The Nigerian singer-songwriter, Rema, has made history by becoming the first African lead artist to have a song reach 1 billion streams on Spotify. His hit single "Calm Down", featuring Selena Gomez, has taken the world by storm with its catchy Afrobeats rhythms, soulful vocals, and unexpected cross-cultural collaboration.
The song quickly became a favourite on dancefloors and in personal playlists around the world, with data showing that it has been added to over a million Spotify playlists. It has also been streamed over 100 million times in the US alone, making it one of the most popular songs of all time by an African artist.
Rema's "Calm Down" has also caused people to react in different positive ways such as dancing, singing along, and sharing it on social media.
"Calm Down" is a testament to Rema's unique sound and global appeal. The young artist has been praised for his ability to blend traditional African music with modern influences, creating a genre-bending sound that has captured the attention of fans around the world.
This milestone is a major win for African music and a sign of the growing global popularity of Afrobeats. It is also a reminder of the power of music to transcend cultural and geographical boundaries. As Rema himself puts it, "Music is a universal language that can bring people together".
So raise a glass to the 23-year-old Rema, who has already achieved so much success, and "Calm Down", the song that is calming down the world one stream at a time.
"Calm Down" is a must-listen for everyone who loves music or simply just loves to feel good. Do you love and support African music too? Then listen!
Kabaka's 'Abialam' Makes Highlife History With Top Music Chart Performance
In a historic moment for African highlife music, Kabaka and His Oriental International Brothers have achieved a groundbreaking feat with their latest album, 'Abialam,' which has climbed to No. 24 on the Apple Music Top 100 chart worldwide. What's even more stunning is that this achievement was attained within less than 24 hours of its release, and it secured the 27th position within 48 hours of hitting the charts.
'Abialam,' which translates to "I have returned," is a masterful blend of traditional rhythms and contemporary beats, that captures the very essence of highlife music while resonating with a diverse global audience.
The album comprises six tracks that pay respect to the rich history of the highlife genre while seamlessly integrating modern elements, making it both timeless and relevant in today's music landscape.
With this incredible success, 'Abialam' not only tops the charts but also receives praise from music critics who applaud the album's sophisticated orchestration, intriguing lyrics, and innovative sound.
African highlife music pioneers, Kabaka and His Oriental International Brothers are recognised for fusing traditional highlife rhythms with contemporary influences. Their music has won over followers across decades and cultures.
With future tour dates and streaming of "Abialam" on all the main platforms, Kabaka and His Oriental International Brothers are ready to electrify audiences with their comeback.
Check this page for more music updates. 
Nigerian Music Stars Win 2023 AFRIMMA Awards In Texas
The 2023 AFRIMMA Awards took place in Texas and many Nigerian superstars bagged awards at the ceremony.
The 10th edition of the AFRIMMA Awards which took place on September 17, 2023, in Texas, was a night to remember for Nigerian music fans.
The African Muzik Magazine Award, widely abbreviated as AFRIMMA, is an annual music award ceremony that celebrates the best of African music. The awards are open to artists from all over Africa, and they recognize a wide range of musical genres, including Afrobeats, Afro-Trap, Assiko, Bongo, Coupé-décalé, Genge, Highlife, Hiplife, Kwaito, Makossa, Soukous, etc.
The AFRIMMA is one of the most prestigious music awards ceremonies in Africa. They are also one of the most popular which helps to raise awareness of African music and to promote African artists to a global audience as they provide a platform for African artists to showcase their talent and creativity.
Several Nigerian superstars won the AFRIMMA awards at the ceremony, including:
Davido: Album of the Year for his record-breaking fourth album, Timeless
Rema: Artist of the Year
Ayra Starr: Best Female for West Africa
Flavour: Best Live Performance
ODUMODUBLVCK: Best Newcomer
Blaqbonez: Best Rap Act
KCee: AFRIMMA Legendary Award
Timaya: Lifetime Achievement Award
These wins prove the incredible talent and creativity of many Nigerian artists who are being recognised for their contributions to the music world globally. They are also a sign that Nigerian music is becoming increasingly popular around the world.
Full list of the 2023 AFRIMMA award winners:
Artist of the Year
Best Male West Africa
Best Female West Africa
Best Male East Africa
Diamond Platnumz – Tanzania
Best Female East Africa
Best Male Central Africa
Best Male Southern Africa
Best Female Southern Africa
Nadia Nakai – South Africa
Best Newcomer
Best Gospel
Best Live Act
Best Male Rap Act
Best Collaboration
Spyro x Tiwa Savage – 'Who's Your Guy?'
Best DJ Africa
Best African DJ USA
Music Producer of the Year
Best Francophone
Best African Group
AFRIMMA Album of the Year
Lifetime Achievement Award
Fally Ipupa (DR Congo) and Timaya (Nigeria)
AFRIMMA Legendary Award
Show Dem Camp Announce Joint Music Project With The Caveman
Show Dem Camp (SDC) has unveiled an exciting joint album with The Cavemen, two musical groups that uniquely incorporate indigenous Highlife elements into their sound, setting them apart in the Nigerian music industry.
The announcement was made during SDC's Palmwine Fest London, held at the KOKO Camden on September 17, 2023. Fans of both groups were electrified by the news, anticipating the spectacular fusion of Highlife that would result from this collaboration.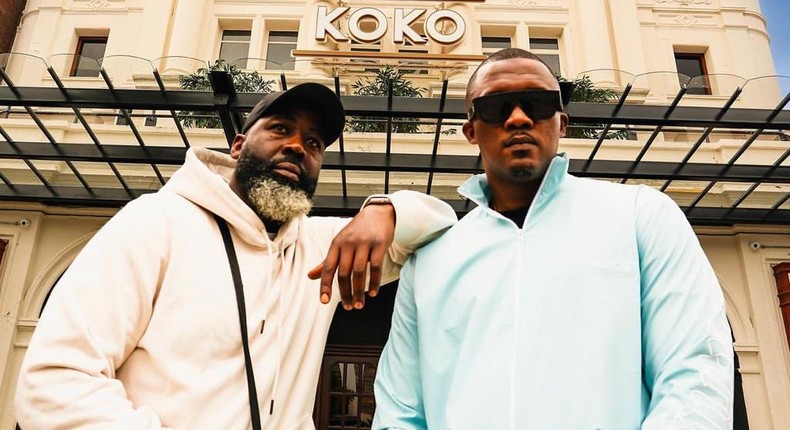 Rappers Tec and Ghost make up the duo of Show Dem Camp (SDC), renowned for their distinctive body of work spanning the Hip Hop and Alternative music genres.
In particular, as Alternative artists, they are known for their critically acclaimed Palm Wine music series, which consists of Palmwime albums: Palmwine Music (2017), Palmwine Music 2 (2018), Palmwine Express (2019), and Palmwine Music 3 (2022)
The Cavemen, on the other hand, became well-known in 2020 as a result of the release of their highly regarded debut album, "Roots." The publication of their sophomore album, "Love & Highlife," in 2021 cemented their reputation as a renowned band in the music industry. Additionally, they have worked with well-known musicians including Davido, Asa, and Kizz Daniel.
This upcoming collaborative project promises to be a significant addition to the musical landscape, combining the unique styles and influences of both SDC and The Cavemen, further enriching the diversity of Nigerian music. Fans can eagerly anticipate a fusion of Highlife sounds that pays homage to tradition while exploring new horizons.
Show Dem Camp have a joint tape with The Cavemen in the works 🇳🇬💿

They announced it at their London show tonight pic.twitter.com/jxLoXIsjc9

— 49th. (@the49thstreet) September 18, 2023