Pleated Trouser: A Timeless Classic
Have you heard or tried out the Pleated Trousers? if no, then it is time to add this outfit to your wardrobe. Pleated trousers are trousers that have folds or pleats along the front of the waist. The pleats are created by folding the fabric over and securing it with stitching.
Pleated trousers can be made from any type of fabric, but they are most commonly made from wool, cotton, or linen. It is a type of pant that features creased folds or pleats sewn into the fabric at the front, usually located near the waistband. These pleats can add a touch of elegance and sophistication to your outfit.
Best Pleated Trouser brands 
When it comes to pleated trouser brands in Nigeria, some popular options include:
1. TM Lewin: Known for their quality suits and formalwear, TM Lewin offers a variety of pleated trousers that are expertly tailored and suited for formal occasions.
2. David Wej: This Nigerian brand offers a wide range of pleated trousers that combine style and affordability. They have options suitable for both formal and casual settings.
3. Woodin: Woodin is a renowned African fashion brand that offers a selection of pleated trousers with vibrant African-inspired prints. They are known for their unique and contemporary designs.
How to Style Pleated Trousers
Here are some stylish ways to wear and style pleated trousers for both men and women:
For Men
1. Classic: Pair your pleated trousers with a tailored dress shirt and a blazer for a sharp and sophisticated look. You could complete the outfit with dress shoes for a polished appearance suitable for formal occasions or business settings. For a formal look, pair pleated trousers with a blazer, button-down shirt, and dress shoes. This is a classic and timeless look that is perfect for work or special occasions.
2. Casual Cool: For a more relaxed vibe, pair your pleated trousers with a crew-neck t-shirt or a casual button-down shirt. Roll up the sleeves for a laid-back touch and add sneakers or loafers to complete the casual yet stylish ensemble. For a more casual look, pair pleated trousers with a T-shirt, sneakers, and a jacket. This is a great way to dress down pleated trousers and make them more versatile.
3. Smart Casual: Combine your pleated trousers with a knit sweater or a polo shirt for a smart casual look. Add a leather belt to enhance the outfit and opt for loafers or brogues for a refined finish.
4. Street Style: Inject some attitude into your outfit by pairing your pleated trousers with a graphic t-shirt or a printed sweatshirt. Layer a denim jacket or a bomber jacket on top and finish with sneakers or chunky boots for an effortlessly cool streetwear look. You could pair pleated trousers with a hoodie and sneakers. You can also add a denim jacket or bomber jacket to add some edge.
For Women
1. Chic: Style your pleated trousers with a blouse or a silk camisole tucked in. Add a belt to make your waistline noticeable and finish with heels or pointed-toe flats for an elegant and feminine look that can be worn for both office and social occasions.
2. Effortless Casual: You can pair your pleated trousers with a relaxed-fit tee or a cropped sweater for a comfortable and casual look. Add sneakers or ankle boots to keep the outfit relaxed and modern.
3. Fashion Forward: Create a trendy and fashion-forward outfit by pairing high-waisted pleated trousers with a statement blouse or a tailored blazer. Add statement accessories and finish with high heels or platform shoes to elevate the look for a special occasion or a night out. For a stylish and modern look, pair pleated trousers with a turtleneck, loafers, and a coat. This is a great way to show off the pleats and create a sophisticated look.
Things to Consider When Pairing Pleated Trousers
Make sure the pleats are pressed and neat. This will help to create a polished look.
Choose the right width for your body type: If you are tall and slim, you can go for wide-leg trousers. If you are shorter, you may want to choose narrower-leg trousers.
Consider the fabric: Pleated trousers can be made from a variety of fabrics, such as wool, cotton, or linen. Choose a fabric that is appropriate for the occasion.
Pay attention to the details: The buttons, belt loops, and pockets can all add to the overall look of the trousers.
Consider the colour: Pleated trousers can be found in a variety of colours, so choose a colour that flatters your skin tone and matches your other clothing.
Avoid wearing pleated trousers that are too long. The hem should just touch the ground.
You can cuff your pleated trousers if you want to shorten them or add a touch of style.
How to Iron Pleated Trousers
When it comes to ironing pleated trousers, it's essential to approach it with care to maintain the pleats' crisp appearance. Here's a step-by-step guide:
1. Begin by checking the fabric care instructions for the trousers. Different materials may require specific ironing temperatures.
2. Set your iron to the appropriate heat setting, usually at a low to medium temperature. Higher heat can potentially damage the fabric, so it's crucial to use a moderate temperature.
3. Before ironing, make sure the trousers are clean and slightly damp. You can lightly mist them with water or use a damp cloth to dampen the fabric.
4. Lay the trousers flat on the ironing board with the pleats visible. Gently smooth out any wrinkles or creases on the fabric.
5. Place a thin cloth, like a cotton handkerchief or a clean dishcloth, over the pleated area. This acts as a protective barrier to prevent direct contact between the iron and the fabric.
6. Press the iron gently over the cloth, moving in an up-and-down motion as you follow the pleats' direction. It's crucial to maintain a light touch to avoid flattening or distorting the pleats.
7. Once you've ironed the pleats, remove the cloth and give the trousers a final touch-up on a low heat setting, if necessary.
Do pleated trousers require cuffs?
Some people who are trying the pleated trousers for the first time usually ask this question. Pleated trousers do not require cuffs, but they can be worn with cuffs if desired. Cuffs can add a touch of formality to the trousers. To add cuffs to pleated trousers, you will need to take them to a tailor. However, some people choose to have cuffs put on their pleated trousers for a more tailored look. If you do decide to have cuffs, put on your pleated trousers, and make sure that they are not too wide. Wide cuffs can make your legs look shorter. Cuffs can add a classic and refined touch to pleated trousers, but it's not mandatory.
Should Men Wear Pleated Trousers?
Men can wear pleated trousers. Pleated trousers can be a very stylish and versatile option for men. They can be dressed up or down, and they can be worn for a variety of occasions. However, it is important to choose the right pleated trousers for your body type. If you are overweight or have a large stomach, you may want to avoid pleated trousers, as they can reveal or expose these areas. It ultimately depends on personal preference and body type. Pleats can add some volume and texture to the pants, which can be flattering for some individuals. However, for those with a larger midsection or who prefer slimmer fit, flat-front trousers may be a better option.
Other Pleated Trouser Options
Zara pleated trousers
Zara is a Spanish fashion brand that is known for its affordable and trendy clothing. Zara's pleated trousers are made from high-quality fabrics and are available in a variety of styles and colours. Zara is a popular international fashion retailer known for its contemporary and affordable clothing offerings. They have an extensive range of trousers, including pleated styles. Zara caters to a wide range of fashion tastes, so you can find both traditional and more unique pleated trouser designs to suit your style.
Wide-leg pleated trousers
Wide-leg pleated trousers are a popular trend in men's fashion. They are a great option for men who want to add a touch of style and sophistication to their wardrobe. Wide-leg pleated trousers can be dressed up or down, and they can be worn for a variety of occasions. It also features a larger leg opening that creates a flowy and relaxed silhouette. These trousers offer a comfortable and fashionable alternative to slimmer fits. You can pair them with tucked-in blouses or cropped tops for a chic and sophisticated look.
High-waisted pleated trousers
High-waisted pleated trousers are another popular trend in men's fashion. They can help to create a long and lean silhouette. High-waisted pleated trousers can be dressed up or down, and they can be worn for a variety of occasions. It sits above the natural waist, flattering the figure and creating a timeless aesthetic. This style elongates the legs and cinches in the waist, resulting in a polished and elegant outfit. High-waisted pleated trousers can be dressed up with a tailored blazer for formal occasions or paired with.
Chioma Nnadi Appointed Head Of Editorial Content At British Vogue
Chioma Nnadi has officially been appointed as the Head of Editorial Content at British Vogue, as announced by Condé Nast, the magazine's owner.
This announcement confirms months of speculations within the fashion industry. The change is significant as it coincides with the transition of Edward Enninful, the European Editorial Director of Vogue and Editor-in-Chief of British Vogue, into a global advisory role.
In recent years, Condé Nast has been implementing cost-cutting measures and streamlining editorial operations by eliminating the Editor-in-Chief roles at many of Vogue's international editions. Notably, Edward Enninful was the exception, retaining his position, alongside Vogue's Global Editorial Director, Anna Wintour.
Edward Enninful's position will now be filled by Chioma Nnadi, a highly acclaimed Vogue veteran with an exceptional thirteen-year tenure with the publication. British Vogue now follows the same editorial guidelines as other European versions of the magazine as a result of this tactical decision.
In these editions, the traditional Editor-in-Chief positions have been phased out, making way for younger, digitally savvy, and more cost-effective editorial leaders.
Chioma Nnadi's abilities were commended by Anna Wintour, an influential figure at Condé Nast and in the fashion industry, who said that she had shown a remarkable ability to connect with a digital audience. She also praised Chioma Nnadi's accomplishments in boosting Vogue's visibility, reputation, and impact on numerous platforms.
This new act demonstrates the magazine's dedication to adapting to the shifting climate of fashion media and its continued efforts to maintain relevance and leadership in the digital age.
For more entertaining content, click here.
View this post on Instagram
Burberry Summer Fashion Event In London Features Bukayo Saka, Eze, Son, And Wizkid
Burberry Summer Fashion event in London was a glamourous event featuring Premier League luminaries like Eberechi Eze and Son Heung-Min, along with the global music sensation, Wizkid.
The emerging Arsenal star, Bukayo Saka, recently appeared at the prestigious Burberry Summer Fashion Event in London which brought together not only football talent but also musical prowess.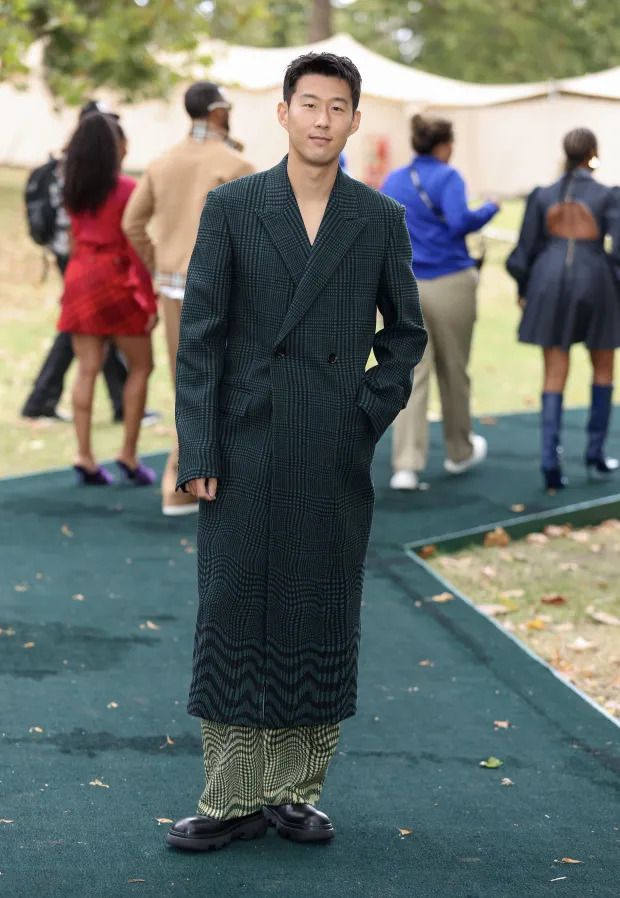 Each football player made a fashion statement that reflected their distinct sense of style. Saka and Son wore stylish all-black outfits that radiated refinement, possibly going for a more understated approach. Eberechi Eze, in contrast, stole the show with a colourful two-piece checkered suit that had a maroon top paired with eye-catching vivid red bottoms. Eze's choice of clothing not only displayed his sense of fashion but also his confidence to stand out in the crowd.
Wizkid and Bukayo Saka at the Burberry fashion show in London.

STARBOYS 🇳🇬💜 pic.twitter.com/0i4S6RU5k9

— NTS. (@NoteSphere) September 18, 2023
The presence of Wizkid gave this celebrity-studded event an additional dimension of intrigue. Wizkid brought his special brand of stardom to the occasion. His presence unquestionably raised the event's stature by merging the worlds of athletics and music in a captivating and memorable way.
Together, these Nigerian talents showcased their excellence not only in their respective fields but also in the realm of fashion and entertainment on this remarkable London evening.
😎✨ Son Heung-min, Eberechi Eze & Bukayo Saka were present at the Burberry summer fashion show! pic.twitter.com/hETLAiRsG9

— EuroFoot (@eurofootcom) September 18, 2023
Wizkid & Bukayo Saka at Burberry SS24. pic.twitter.com/RJju3PitiS

— The Top Charts ® (@topchartsafrica) September 18, 2023
Stylish Ways Men Can Rock Their Cardigans
A cardigan is a type of sweater or knitwear that typically has an open front, making it easy to put on and take off. It is named after James Thomas Brudenell, the 7th Earl of Cardigan, who popularized this style of knitwear in the 19th century.
Cardigans come in a variety of styles and colours and can be made from a variety of materials such as wool, cotton, or blends.
A cardigan is a versatile and timeless piece of clothing that can be worn by anyone in various settings and occasions. They are versatile because they come in a variety of styles, lengths, and materials making them suitable for both casual and semi-formal wear.
How To Rock A Cardigan
Wearing a cardigan is straightforward, and it offers a great deal of versatility. Here are the basic steps for wearing a cardigan:
1. Select the Right Size: Ensure that the cardigan fits you. It should neither be too tight nor too loose. The sleeves should reach your wrists, and the length should be appropriate for your body type.
2. Choose a Suitable Style: Cardigans come in various styles, like button-up, zip-up, or open-front. Choose a style that suits your preference and the occasion.
3. Coordinate with Outfit: Pair your cardigan with complementary clothing items. For a casual look, wear it with jeans and a T-shirt. For a more formal appearance, opt for dress trousers, a button-down shirt, and a tie.
4. Layering: Cardigans are excellent for layering especially when you feel like dressing in layers. For extra warmth and style, you can layer them over a shirt, polo, or even a thin sweater.
5. Accessories: Consider adding accessories like a belt or a scarf to enhance your outfit.
Several Ways To Rock A Cardigan
1. Casual Look: Pair a lightweight cardigan with jeans and a simple t-shirt for a relaxed, everyday outfit. This would undoubtedly give you the laid-back look you're going for.
2. Business Casual: Combine a well-fitted cardigan with dress trousers, a button-down shirt, and leather shoes for a polished business casual appearance.
3. Layered Fashion: To add warmth and style, layer a cardigan over a collared shirt or a patterned sweater.
4. Formal Occasions: A cardigan can serve as a suitable substitute for a blazer at semi-formal events. For a sophisticated appearance, wear it with dress pants and a tie.
Places You Can Wear A Cardigan (For Nigerian Men)
Nigerian men can wear cardigans to a variety of occasions, including:
1. Office: In a business-casual work environment, a cardigan can be a stylish and comfortable choice. It can be a chic and cosy option in a business-casual work setting.
2. Casual Outings: Whether you're going for a casual lunch, shopping, or a social gathering, a cardigan can elevate your casual look.
3. Date Night: A well-chosen cardigan can make a great date night outfit when worn with slim-fit pants and a sharp shirt.
4. Religious Gatherings: Cardigans are also a modest and stylish choice for attending religious services and gatherings.
5. Family Events: Family gatherings and celebrations are perfect occasions to wear cardigans because they combine comfort and style.
In conclusion, cardigans are adaptable garments that Nigerian men can wear in a variety of ways. Why don't you add this to your wardrobe as well and rock it the way you feel?