Fun Ways to Style Cropped Denim Jacket
A cropped denim jacket is a shorter version of the classic denim jacket. It typically hits at the waist or just below, and it can be made from any type of denim, from light wash to dark wash. Cropped denim jackets are a versatile piece of clothing that can be dressed up or down.
Cropped Denim Jacket is a trendy and versatile piece that can easily elevate your outfit. When it comes to styling and wearing a cropped denim jacket, the options are endless. You can pair it with different bottoms like jeans, skirts, or even dresses.
Ways to Style and Wear a Cropped Denim Jacket
Dress or Skirt: A cropped denim jacket can be a great way to add a bit of edge to a feminine outfit. Pair it with a sundress or midi skirt for a casual look, or with a pencil skirt or chic midi skirt for a more formal look.
Jeans: Cropped denim jackets are a classic combination with jeans. They can be dressed up or down, depending on the style of jeans and the other items in your outfit. For a casual look, pair your cropped denim jacket with boyfriend jeans or ripped jeans. For a more elegant look, pair it with dark wash skinny jeans or straight-leg jeans.
Leggings: Cropped denim jackets can also be worn with leggings. This is a great option for a comfortable and stylish outfit. Pair your cropped denim jacket with black leggings and trainers for a casual look, or with patterned leggings and boots for a bolder look.
Tank top or t-shirt: A cropped denim jacket can be a great way to add some warmth to a summer outfit. Pair it with a tank top or t-shirt and shorts for a casual look, or with a button-down shirt and skirt for a more put-together look.
Hoodie: A cropped denim jacket can also be worn over a hoodie for a cool and casual look. This is a great option for running errands or just hanging out.
Some things to wear with a cropped denim jacket
Tops: Tank tops, t-shirts, button-down shirts, sweaters, hoodies
Shoes: Wear them with sneakers, sandals, boots, or heels. The type of shoes you wear will depend on the overall look you're going for.
Accessories: Accessorize with a belt or scarf. This will help to define your waist and add glamour to your outfit. It could also be paired with hat, scarf, necklace, bracelet, earrings.
High-waisted jeans: Pair it with high-waisted jeans or pants. This will create a long and lean line, and it will also help to balance out the cropped length of the jacket.
Tights
Dresses: Layer it over a dress or skirt. This is a great way to dress up a casual outfit.
Shorts: Tuck it into a skirt or shorts. This is a more edgy and fashion-forward way to wear a cropped denim jacket.
Boots
Heels
Sneakers
Belts
Scarves
You can also wear a cropped denim jacket with mid-rise or high-rise jeans. The shorter length of the jacket creates a longer, more balanced silhouette. If you wear mid-rise jeans, you can tuck the front of the jacket into the jeans to create a more polished look. If you are wearing high-waisted jeans, you can leave the jacket untucked for a more relaxed and flattering look.
Specific outfit ideas
Cropped denim jacket + high-waisted jeans + sneakers
Cropped denim jacket + skirt + heels
Cropped denim jacket + dress + boots
Cropped denim jacket + shorts + sandals
Cropped denim jacket + tights + boots
However, the pear-shaped stylist has offered a tutorial on how to style your cropped denim jackets. See the video below.
View this post on Instagram
Chioma Nnadi Appointed Head Of Editorial Content At British Vogue
Chioma Nnadi has officially been appointed as the Head of Editorial Content at British Vogue, as announced by Condé Nast, the magazine's owner.
This announcement confirms months of speculations within the fashion industry. The change is significant as it coincides with the transition of Edward Enninful, the European Editorial Director of Vogue and Editor-in-Chief of British Vogue, into a global advisory role.
In recent years, Condé Nast has been implementing cost-cutting measures and streamlining editorial operations by eliminating the Editor-in-Chief roles at many of Vogue's international editions. Notably, Edward Enninful was the exception, retaining his position, alongside Vogue's Global Editorial Director, Anna Wintour.
Edward Enninful's position will now be filled by Chioma Nnadi, a highly acclaimed Vogue veteran with an exceptional thirteen-year tenure with the publication. British Vogue now follows the same editorial guidelines as other European versions of the magazine as a result of this tactical decision.
In these editions, the traditional Editor-in-Chief positions have been phased out, making way for younger, digitally savvy, and more cost-effective editorial leaders.
Chioma Nnadi's abilities were commended by Anna Wintour, an influential figure at Condé Nast and in the fashion industry, who said that she had shown a remarkable ability to connect with a digital audience. She also praised Chioma Nnadi's accomplishments in boosting Vogue's visibility, reputation, and impact on numerous platforms.
This new act demonstrates the magazine's dedication to adapting to the shifting climate of fashion media and its continued efforts to maintain relevance and leadership in the digital age.
For more entertaining content, click here.
View this post on Instagram
Burberry Summer Fashion Event In London Features Bukayo Saka, Eze, Son, And Wizkid
Burberry Summer Fashion event in London was a glamourous event featuring Premier League luminaries like Eberechi Eze and Son Heung-Min, along with the global music sensation, Wizkid.
The emerging Arsenal star, Bukayo Saka, recently appeared at the prestigious Burberry Summer Fashion Event in London which brought together not only football talent but also musical prowess.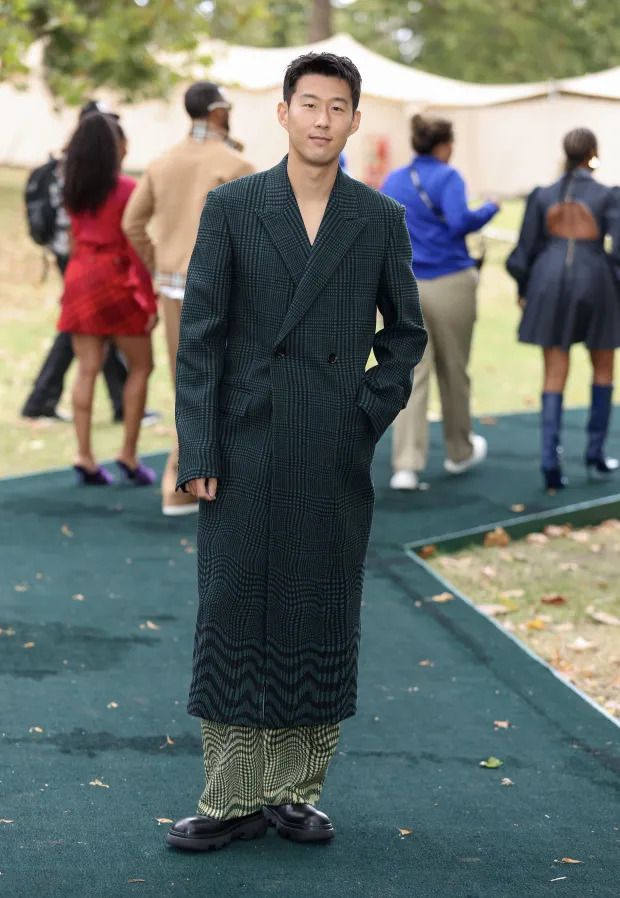 Each football player made a fashion statement that reflected their distinct sense of style. Saka and Son wore stylish all-black outfits that radiated refinement, possibly going for a more understated approach. Eberechi Eze, in contrast, stole the show with a colourful two-piece checkered suit that had a maroon top paired with eye-catching vivid red bottoms. Eze's choice of clothing not only displayed his sense of fashion but also his confidence to stand out in the crowd.
Wizkid and Bukayo Saka at the Burberry fashion show in London.

STARBOYS 🇳🇬💜 pic.twitter.com/0i4S6RU5k9

— NTS. (@NoteSphere) September 18, 2023
The presence of Wizkid gave this celebrity-studded event an additional dimension of intrigue. Wizkid brought his special brand of stardom to the occasion. His presence unquestionably raised the event's stature by merging the worlds of athletics and music in a captivating and memorable way.
Together, these Nigerian talents showcased their excellence not only in their respective fields but also in the realm of fashion and entertainment on this remarkable London evening.
😎✨ Son Heung-min, Eberechi Eze & Bukayo Saka were present at the Burberry summer fashion show! pic.twitter.com/hETLAiRsG9

— EuroFoot (@eurofootcom) September 18, 2023
Wizkid & Bukayo Saka at Burberry SS24. pic.twitter.com/RJju3PitiS

— The Top Charts ® (@topchartsafrica) September 18, 2023
Stylish Ways Men Can Rock Their Cardigans
A cardigan is a type of sweater or knitwear that typically has an open front, making it easy to put on and take off. It is named after James Thomas Brudenell, the 7th Earl of Cardigan, who popularized this style of knitwear in the 19th century.
Cardigans come in a variety of styles and colours and can be made from a variety of materials such as wool, cotton, or blends.
A cardigan is a versatile and timeless piece of clothing that can be worn by anyone in various settings and occasions. They are versatile because they come in a variety of styles, lengths, and materials making them suitable for both casual and semi-formal wear.
How To Rock A Cardigan
Wearing a cardigan is straightforward, and it offers a great deal of versatility. Here are the basic steps for wearing a cardigan:
1. Select the Right Size: Ensure that the cardigan fits you. It should neither be too tight nor too loose. The sleeves should reach your wrists, and the length should be appropriate for your body type.
2. Choose a Suitable Style: Cardigans come in various styles, like button-up, zip-up, or open-front. Choose a style that suits your preference and the occasion.
3. Coordinate with Outfit: Pair your cardigan with complementary clothing items. For a casual look, wear it with jeans and a T-shirt. For a more formal appearance, opt for dress trousers, a button-down shirt, and a tie.
4. Layering: Cardigans are excellent for layering especially when you feel like dressing in layers. For extra warmth and style, you can layer them over a shirt, polo, or even a thin sweater.
5. Accessories: Consider adding accessories like a belt or a scarf to enhance your outfit.
Several Ways To Rock A Cardigan
1. Casual Look: Pair a lightweight cardigan with jeans and a simple t-shirt for a relaxed, everyday outfit. This would undoubtedly give you the laid-back look you're going for.
2. Business Casual: Combine a well-fitted cardigan with dress trousers, a button-down shirt, and leather shoes for a polished business casual appearance.
3. Layered Fashion: To add warmth and style, layer a cardigan over a collared shirt or a patterned sweater.
4. Formal Occasions: A cardigan can serve as a suitable substitute for a blazer at semi-formal events. For a sophisticated appearance, wear it with dress pants and a tie.
Places You Can Wear A Cardigan (For Nigerian Men)
Nigerian men can wear cardigans to a variety of occasions, including:
1. Office: In a business-casual work environment, a cardigan can be a stylish and comfortable choice. It can be a chic and cosy option in a business-casual work setting.
2. Casual Outings: Whether you're going for a casual lunch, shopping, or a social gathering, a cardigan can elevate your casual look.
3. Date Night: A well-chosen cardigan can make a great date night outfit when worn with slim-fit pants and a sharp shirt.
4. Religious Gatherings: Cardigans are also a modest and stylish choice for attending religious services and gatherings.
5. Family Events: Family gatherings and celebrations are perfect occasions to wear cardigans because they combine comfort and style.
In conclusion, cardigans are adaptable garments that Nigerian men can wear in a variety of ways. Why don't you add this to your wardrobe as well and rock it the way you feel?