6 Reasons Why Beer May Be Good For You
Beer is significantly considered as one of the oldest alcoholic drinks in the world and a really popular drink.
Many netizens love to chill in restaurants and bars with a cool bottle of beer to relax from the stress they may have encountered throughout the day.
However, many people disagree that beer is not healthy as it has its side effect, but research has shown that a moderate amount or intake of beer is good for you.
Research has shown that moderate intake of beer could lower the risk of heart disease like heart failure, heart attack and stroke.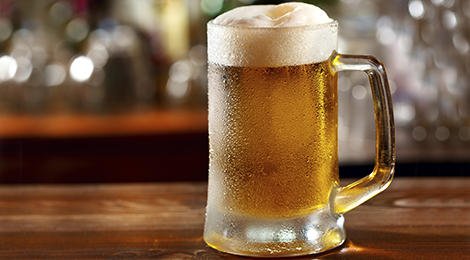 Beer prevents heart diseases as it increases high density lipoprotein (HDL).
Beer does not contain cholesterol but helps improve and boost the cholesterol in your body.
Moderate intake of beer is good for you as it helps lowers the risk of developing dementia.
It also aids bone density in men and women. Beer is an all-natural product, it requires no preservatives, but it is processed; cooked, fermented, filtered and packaged.
Beer also contains tons of B Vitamins particularly folic acid. Beer helps you relax and moderate drinking is advised. Though there might be bad effect of drinking beer, taking a moderate amount of beer could do you good. Drink wisely cause the choice is always yours.
3 Cold Coffee Recipes By Hands Touch
Cold coffee is served chilled or over ice. It is an alternative to hot coffee, particularly in warm weather or for those who prefer a refreshing and cooler beverage.
To learn and master how to make cold coffee, watch the video below.
5 Side Effects Of Cold Water
Generally, water is good for the health.  Cold water can be soothing on a very hot day but there are also potential negative effects, especially when exposure to cold water is excessive or prolonged.
Below are five possible adverse effects:
1. Vasoconstriction:
Cold water can cause vasoconstriction, which is the narrowing of blood vessels. This can temporarily reduce blood flow to certain areas of the body, potentially impacting circulation.
2. Hypothermia:
Prolonged exposure to very cold water can lead to hypothermia, which occurs when the body loses heat faster than it can produce it. Symptoms of hypothermia include shivering, confusion, slowed heart rate, and loss of coordination. Severe cases can be life-threatening and require immediate medical attention.
3. Increased risk of heart problems:
Cold water immersion can place stress on the cardiovascular system. Sudden exposure to cold water can cause a temporary increase in blood pressure and heart rate. For individuals with pre-existing heart conditions, this can potentially trigger cardiac events such as heart attacks, arrhythmias, or angina (chest pain).
4. Respiratory issues:
Inhalation of very cold water or exposure to cold water on the chest can cause the airways to constrict, leading to difficulty breathing. This response is known as a cold-induced bronchospasm and can be particularly problematic for individuals with asthma or other respiratory conditions.
5. Shock and stress response:
The sudden exposure to cold water can induce a shock response in the body, leading to an increase in stress hormones such as cortisol and adrenaline. This can result in heightened anxiety, increased blood pressure, and a temporary suppression of the immune system.
Coffee is a brewed drink that is prepared from roasted coffee beans, it is one of the highest-sold hot drinks in the world.
However, there are some facts about coffee you have no idea about, but you're in luck because Health Normal will be educating you about some facts about coffee should be aware of.
See the video below.