Nigerian Idols Season 8 Is Back
MultiChoice Nigeria has announced the return of the popular TV show, Nigerian Idols, for it's eighth edition. The show will premier on April 23, and the auditions and theatre week will air from April 23 till May 21. The live shows will begin on May 28 and end on July 16. The show features popular TV personality IK Osakioduwa as the host and Obi Asika as the judge, Simi, and D'banj will also be returning as judges.
The show is a platform for showcasing Nigerian talent and helping participants gain access to mentorship, vocal coaching, and other valuable resources. The executive head of content and West Africa channels at MultiChoice Nigeria, Dr. Busola Tejumola, said that Nigerian Idol provides a rare opportunity for talented Nigerian artists to rise to fame through hard work and dedication.
The judges spoke about their expectations for the season and what they look for in a Nigerian Idol. Simi emphasized the importance of having a great work ethic and being passionate about one's work, while Obi Asika expressed excitement about the upcoming season and the prospect of discovering new talents that reflect Nigeria's mainstream music industry.
Photo courtesy: Premium Times Nigeria
MohBad's Life & Career: A Brief Overview
The Nigerian singer/songwriter, Ilerioluwa Oladimeji Aloba popularly known as MohBad who was born on 8th June 1996, tragically passed away on 12th September 2023 at the young age of 27. Hailing from Lagos, Nigeria, MohBad was an artist in the Afrobeat and Nigerian pop scene. He made a name for himself as a rapper, singer, and songwriter. The artist started his musical journey in 2016 but gained recognition in 2019. The artist is survived by his wife, Omowunmi and son, Liam.
Mohbad was formerly signed under Marlian Record, owned by popular Nigerian street-hop artist, Naria Marley, but the artist left the label after 2 years in October 2022. After terminating his contract with Marlian Records due to a misunderstanding, MohBad accused Naira Marley of domestic violence and stated that his former boss ordered people to beat him up when he confronted Marley about his decision to employ a different manager to handle his music and business affairs. MohBad went forward to set up his record label known as Imolenization in November 2022.
The artist's last live performance was at the D'General Bitters live event at Ikorodu Town Hall on Sunday.
View this post on Instagram
DISCOGRAPHY
While still signed under Marlian Records, the artist delivered amazing hit singles during the period. Among his hits included:
Ponmo: This is one of Mohbad's hit tracks that captivated fans with its catchy beat and playful lyrics. The song is known for its Afrobeat and Afro-fusion influences, which are characteristic of many contemporary Nigerian music genres. The music featured Lil Kesh and Naria Marley. "Ponmo" is a feel-good track that revolves around themes commonly found in Afrobeat and Nigerian pop music. It primarily celebrates life's pleasures, good times, and the joy of being in the moment. The lyrics are characterized by their simplicity and relatability, making it easy for listeners to connect with the song's celebratory spirit. Mohbad's energetic delivery and the infectious rhythm of the song contribute to its appeal. Upon its release, "Ponmo" gained popularity both in Nigeria and among Afrobeat enthusiasts worldwide. It resonated with fans who appreciated its upbeat tempo, danceable nature, and the overall positive vibe it exuded. The song's success also led to collaborations and performances by Mohbad with other artists, contributing to his growing presence in the Nigerian music scene.
Feel Good: This single was another hit by the artist, with its catchy beats and amazing lyrics. The genre was both Afro-beats and Afro-fusion. The way MohBad was able to incorporate English, Pidgin and Yoruba languages into the music made it more outstanding. "Feel Good" depicted enjoyment, stress-free mood and celebration, the scenery was quite colourful.
Kor Po Ke (KPK): The track gained significant attention and became a viral hit in Nigeria and beyond. The music was produced by Rexxie. KPK is a lively and energetic song characterized by its catchy beat and repetitive lyrics. The term "Kor Po Ke" itself is Nigerian slang, and its meaning can vary depending on the context. In the song, it is used to describe someone who is attractive or captivating, often used in admiration. The lyrics of the song reflect themes commonly found in Nigerian pop music, celebrating youthful exuberance, freedom, and the enjoyment of life's pleasures. It's a feel-good track that encourages listeners to dance and have a good time. Mohbad's delivery is characterized by his distinctive vocal style and playful lyrics, which resonate with fans and contribute to the song's popularity. "Kor Po Ke" quickly became a sensation upon its release. It gained widespread recognition and became a favourite at parties, clubs, and social gatherings. The song's catchy chorus and danceable rhythm made it a go-to track for those looking to have a good time. The music video for "Kor Po Ke" also contributed to its success, featuring vibrant visuals and choreography that added to the overall entertainment value of the song. The music solidified Mohbad's position as a rising star in the Nigerian music scene. It showcased his ability to create songs that resonate with a broad audience, and it further expanded his fan base.
Light EP: This was MohBad debut/first album, which was released in the fourth quarter of 202o. The EP is an eight-song track which features Davido, Naria Marley and Lil Kesh. Naria Marley served as the executive producer for the album while SB, Rexxie, P.Beat and Austin Sinister were the producers.
However, MohBad's other songs included Backside, Tiff, Peace, Weekend, Hallelujah, Ronaldo, Ask About Me, Adura feat. Bella Shmurda, Pariwo feat. Bella Shmurda, Account Balance feat. Zlatan, Blessing, Sabi, Omo mi, Beast & Peace and La Pio Pio.
NOMINATIONS 
Mohbad has been nominated five times for the Beatz Award in 2021, and his song "Kor Po Ke" featuring Rexxie, was nominated three times for the Headies Award in 2022. However, the artist hasn't received any notable music awards.
SPECULATIONS ABOUT THE MOHBAD'S DEATH
According to a source within MohBad's team, the talented artist's tragic demise was attributed to an infection that took a fatal turn following the administration of an injection. This shocking revelation has sparked a trending discussion within the online community, particularly on platforms like Instagram and X.
What makes this situation even more complex is the blame some fans have placed on Naira Marley, the owner of Marlian Records, under which MohBad was formerly signed. The controversy traces back to events in October 2022 when MohBad severed ties with the label. At that time, he made serious allegations against Naira Marley, accusing him of physical assault.
Mohbad stated that he was subjected to physical violence which was orchestrated by his former boss after he had made clear his intention to get a different manager to oversee his music and business affairs. This revelation has created mixed and divided opinions among fans, leading to heated discussions and debates on social media.
While some believe that the circumstances surrounding MohBad's departure from Marlian Records and his allegations against Naira Marley may have contributed to his unfortunate demise, others are calling for a thorough investigation to ascertain the true cause of his death. As fans deal with the loss of a creative artist and the unanswered questions surrounding his passing, the situation is still complicated and emotions are running high.
Here are some of the comments below.
Mohbad wasn't publicly supported when he was assaulted by Naira Marley crew, even after being hospitalized the industry elites kept silent; Only Bella Shmurda boldly stood by him. All of a sudden everyone is posting condolence messages & acting like they care. The same so-called…

— Daniel Regha (@DanielRegha) September 13, 2023
Daniel Regha consistency on Mohbad Ordeals with Naira Marley is second to none.

Bro, this is true love 🥺❤️🕊️ pic.twitter.com/6mhtofvmwH

— Communicator (@__communicator_) September 13, 2023
Mohbad: Naira Marley explaining himself months earlier pic.twitter.com/nKeDbKFamd

— Instablog9ja (@instablog9ja) September 13, 2023
Tragic Loss: Nigerian Artist Mohbad Passes Away At 27
The music industry, as well as fans and loved ones, are devastated by the sudden news that the Nigerian artist, Mohbad has passed away. Mohbad, a well-known stage name for Ilerioluwa Oladimeji Aloba, a Nigerian musician, regrettably died from an infection. The loss of the former Marlian Record signee has had a depressing effect on both his ardent supporters and the music business as a whole.
Music executive, Ovie, who used his social media platform on Tuesday to make the painful revelation, informed the audience of the sad news.
The devastating news was confirmed by Ovie on his X (previously Twitter) handle, as he said simply yet movingly, "Confirmed. MohBad is dead. Sad, sad day".
Confirmed. Mohbad is dead.

Sad, sad day.

R.I.P 🕊️💔 pic.twitter.com/tcTGYYKSRU

— Ovie (@OvieO) September 12, 2023
Currently, there is still much-unresolved information about MohBad's passing, which heightens the sense of loss among his fans and fellow musicians. Specific details concerning the circumstances surrounding his death are still unknown.
The musician was said to have visited the hospital early on Tuesday, September 12, 2023, for treatment, and was then given an injection. According to a source from his team, Mohbad passed out shortly after the injection was administered and unfortunately did not wake up.
Stan Nze And Wife Embrace Parenthood As They Mark Two Years Of Marriage
Stan Nze and wife embrace parenthood as they mark two years of marriage! The popular Nollywood actor, Stan Nze recently shared some heartwarming news with his fans and followers via Instagram. In the early hours of Monday, September 11, 2023, Stan Nze posted a heartwarming video and a delightful double announcement on his Instagram page.
The talented actor and YouTuber, joyously revealed that he and his wife, Blessing Jessica, are expecting a baby, and are also commemorating their second wedding anniversary.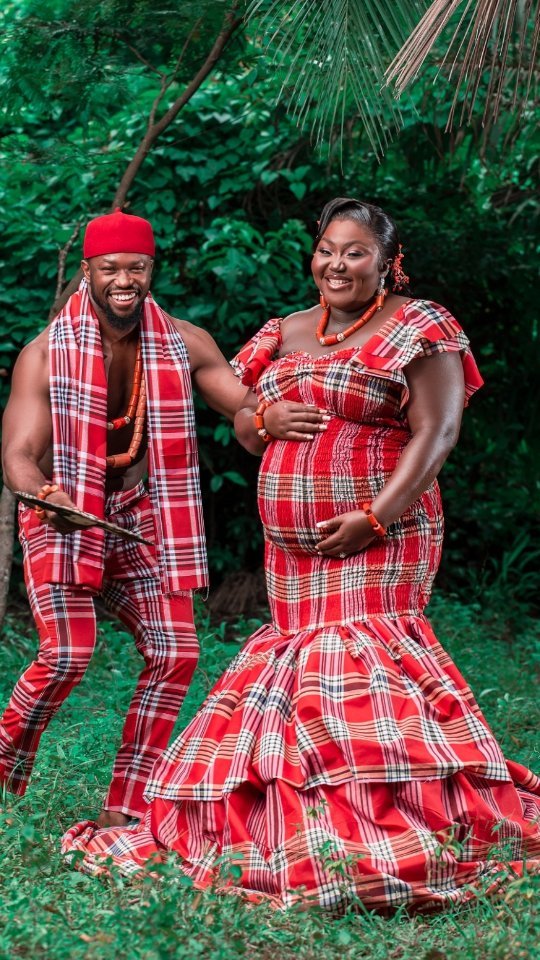 The couple's announcement was beautifully captured in a video where Stan and the heavily pregnant Jessica were seen strolling and dancing in a tranquil garden setting. Their matching red outfits and traditional beads added a touch of cultural elegance to the moment, as they revealed in the joy of expanding their family.
In his Instagram caption, Stan Nze expressed his deep gratitude for the decision to marry Jessica, describing it as the best choice they've ever made. He also looked forward to their third year together as a couple, declaring it as their "year of nurturing".
View this post on Instagram
His caption read:
"2 years today, still the best decision of our lives. I don't know what we did right to deserve this kind of love. We are grateful Jesus. Our 3rd year is definitely a unique phase – Our year of nurturing. Please say a prayer for us. Happy 2nd Anniversary to Us."
Following the couple's announcement of their impending parenthood, their online community showered the couple with well wishes and congratulations. It is obvious that Stan Nze and Blessing Jessica are starting an exciting new chapter in their lives, one that is fueled by love, joy, and the eagerness to meet their unborn child.
Watch their beautiful video below.