Banga soup is one of the native dishes of Delta State, Nigeria, though it has gained the popularity and ownership of other regions like in the Eastern part of Nigeria.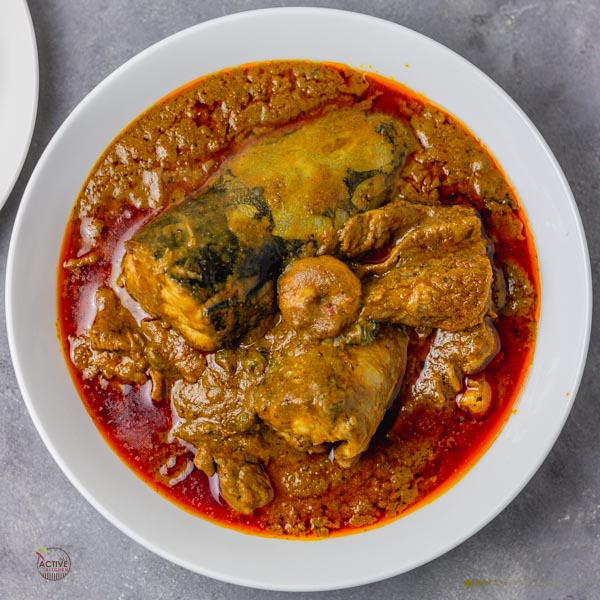 It can be eaten as stew with white rice, or used as soup for any type of swallow.
SisiYemmieTV explained in details how to make this banga soup in her YouTube channel.
Watch below.
Photo courtesy: DeyChop
How To Cook Carrot Jollof Spaghetti By Joyful Cooks
It's a new weed and it will be amazing to cook a delicious meal for your family and friends.
You're in luck because Joyful Cooks has a new recipe available for you.
Why don't you learn how to make Carrot Spaghetti Jollof with Joyful Cooks. See the video below.
How To Make "Marghi Special" By Ify's Kitchen
The Margi people of north eastern Nigeria are the originators of the Nigerian cuisine known as Marghi Special.
It is commonly prepared with fish, spinach, tomatoes, bean sprouts, and additional vegetables such dc mùng. The broth has a tamarind flavour.
In accordance with the particular type of the marghi special recipe, it is topped with fragrant garlic as well as other herbs. It can be eaten with pounded yam, tuwo, white rice, or on its own.
Here's a simplified recipe for marghi by Ify's kitchen. Watch below.
How To Make Peanut Butter By Ify's Kitchen
Peanut butter is a delicious and versatile spread that is made from ground dry roasted peanuts, to which a small amount of oil, sugar, and salt may be added for flavor and consistency.
Peanut butter is a good source of protein, healthy fats, vitamins, and minerals. It can be used as a spread on bread or toast, as an ingredient in various recipes, or simply eaten straight from the jar.
Watch below as Ify's Kitchen takes you through the process of making peanut butter.