5 Vegetables That Boost Immune System
Vegetables are essential for human health. They can help support the immune system and overall health, which may help prevent or recover from malaria.
Some vegetables that are high in nutrients that support immune function include:
1. Spinach:
High in iron, vitamin C, and antioxidants, which can help strengthen the immune system and improve overall health.
2. Carrots:
Carrots are high in beta-carotene, and they support immune function and help reduce inflammation in the body.
3. Broccoli:
Rich in vitamin C and antioxidants, which support the immune system and protect against oxidative stress.
4. Garlic:
Garlic contains compounds with potential antimicrobial and antiviral properties, which may help fight against infections.
5. Onions:
This contains compounds that may have anti-inflammatory and antimicrobial properties, which can help support the immune system.
7 Health Benefits Of Eating Garden Egg
Garden egg, also known as African eggplant or garden eggplant, is a popular vegetable in many regions of the world. It is widely available in Africa, particularly in Nigeria. Garden egg is oval-shaped and can also come in colours purple, white and green.
Aside from being nutritious and delicious in dishes, garden egg offers numerous health benefits. Whether you consume it raw or add it to stews and soups, there are some functions of garden egg in the body that you should know about. Read below.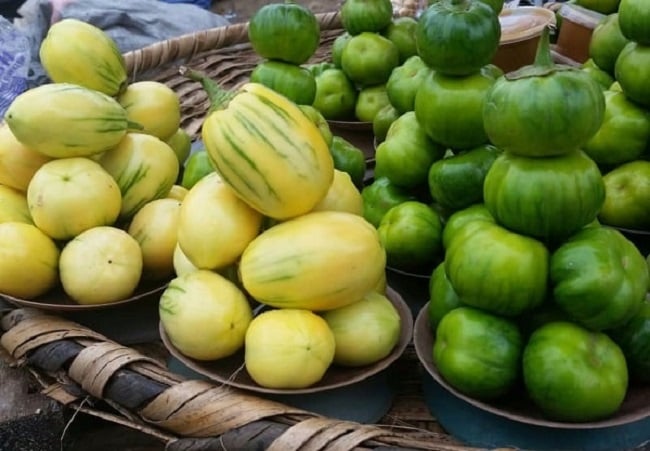 1. Its Nutritional Value:
Garden egg is low in calories but high in fibre and essential nutrients. It contains vitamins such as vitamin C, vitamin B6, vitamin K, and minerals like potassium and folate. These nutrients help support a healthy immune system, improve energy levels, and maintain overall well-being.
2. Richness in Antioxidants:
Garden egg is rich in antioxidants, particularly anthocyanins and flavonoids. These compounds help protect the body against free radical damage, reducing the risk of chronic diseases such as heart disease and cancer. Regular consumption of garden eggs can contribute to improved cardiovascular health and a stronger defence against cellular damage.
3. For Healthy Digestion:
With its high fibre content, a garden egg is beneficial for maintaining a healthy digestive system. It aids in preventing constipation, promotes regular bowel movements, and supports a balanced gut microbiome. The fibre content also assists in regulating blood sugar levels, making garden eggs a suitable vegetable for individuals with diabetes or those aiming to manage their blood sugar.
4. For Weight Management:
The low-calorie content, coupled with its high fibre content, makes garden eggs an excellent addition to a weight-loss or weight-management diet. The fibre keeps you feeling fuller for longer, reducing the chances of overeating or snacking on unhealthy foods.
Including garden eggs in your meals helps promote satiety while providing essential nutrients your body needs.
5. For Healthy Heart:
The presence of potassium in garden eggs contributes to heart health by helping to regulate blood pressure. Potassium works as a vasodilator, which relaxes the tension in blood vessels and arteries, reducing the strain on the cardiovascular system. This, in turn, lowers the risk of heart attacks, strokes, and other related heart conditions.
6. For Healthy Bones:
Garden egg is a good source of vitamin K, which plays a vital role in calcium absorption and bone health. Vitamin K ensures the proper deposition of calcium in bones and helps reduce the risk of conditions like osteoporosis.
With garden eggs in your diet, it can help maintain strong and healthy bones as you age.
7. For Healthy Eyes:
The presence of vitamin C, along with other antioxidants, in garden eggs contributes to maintaining healthy eyes. Vitamin C is essential in protecting the eyes against macular degeneration and cataracts, two common age-related eye conditions.
The antioxidants found in garden eggs also help reduce oxidative stress in the eyes, promoting better vision and overall eye health.
Garden eggs are nutritious vegetables that offer numerous health benefits. Its low-calorie, high-fibre, and antioxidant content make it an ideal addition to any diet, promoting overall body health. So, why not add this delicious and nutritious vegetable to your meals and enjoy all its wonderful benefits?
For everything you need to know about healthy living, get in here.
Try Out This Yummy Ogbono Soup Recipe By Zeelicious Foods
Hello foodies! Do you know that there is a dish you can make almost at no cost and it will last you for days? Join me in this read as I show you the wonders of this special delicacy.
Ogbono soup is a popular Nigerian soup made with ground ogbono seeds (the local name for Irvingia gabonensis). The seeds originated from West Africa and were first cooked in South-Eastern Nigeria, but now are mostly planted in Enugu State of the country. They have a creamy, nutty flavour. Ogbono soup is often thickened with these seeds, giving it a unique texture that is both smooth and slightly slimy.
The ingredients for making ogbono soup vary depending on the country region but it typically includes:
Ogbono seeds
Palm oil
Meat or fish
Stock
Vegetables (such as fluted pumpkin leaf, spinach, okra, and or bitter leaf)
Spices (such as chilli peppers, onions, garlic, etc.)
Seasoning cubes and salt
Fluted pumpkin leaf is the most common leaf used in cooking ogbono soup. The leaves are rich in vitamins and minerals such as iron, calcium, vitamins A, C, and K, zinc, and potassium. This is probably why most people prefer to use the leaf. But while many people believe that fluted pumpkin leaf is the best leaf for the soup, some others prefer to use bitter leaf and other leaves instead.
The ogbono seeds used in cooking the ogbono soup are known by many names such as wild mango, African mango, bush mango, ugiri, ogbono, etc. The names are given based on what they are known as in different regions.
There are several methods for making ogbono soup, but the one that could be considered the easiest and fastest method as affirmed by several individuals is numbered below:
Grind the ogbono seeds into a fine powder.
Heat the palm oil in a large pot over medium heat.
Add the meat or fish and cook until browned.
Add the onion, garlic, ginger, and chilli pepper and cook until fragrant.
Add the stock and bring to a boil.
Reduce heat to low and simmer for 30 minutes, or until the meat or fish is cooked through.
Add and stir in the ogbono powder and cook until the soup has thickened.
Season with salt and pepper to taste.
Serve hot with fufu, pounded yam, eba or with any other swallow.
Note that your vegetables can be cooked longer depending on how soft or fresh you want them to remain in the soup.
Ogbono soup can be served as a special occasion meal, but it can also be enjoyed regularly with friends and family. It is specially served with fufu, a starchy dough made from cassava, and can also be served with other types of swallow, such as pounded yam, eba, or amala.
There are so many nutritional benefits of ogbono soup. They include the list below:
Ogbono soup is a good source of protein and vitamins.
The ogbono seeds are a good source of dietary fibre, which can help to regulate digestion and promote heart health.
They are also a good source of vitamins A and C, which are important for vision and immune function.
The meat or fish that is added to ogbono soup is also a good source of protein and other nutrients.
The vegetables that are added to the soup can also provide additional nutrients, such as vitamins K and A.
Aside from the nutritional benefits of the delectable ogbono soup, there are also health benefits which include:
Boosting the immune system
Regulating digestion
Reducing inflammation
Improving heart health
Promoting weight loss
Some people do not like ogbono soup. This could simply be because of its slimy texture and the raw state it may give off. Well, check the tips below, it will help you swallow every dip you make in the soup:
To avoid the soup becoming too slimy, add the ogbono powder slowly and stir constantly.
You can add more stock or water if the soup is too thick.
If the soup is too thin, you can add more ogbono powder.
You can adjust the amount of chilli pepper to your taste.
Garnish the soup with chopped green onions or parsley.
Use more natural spices.
Eating ogbono soup is a great way to get a boost of protein and fibre in one meal. You can never forget your first taste of it.
For the updated version of how to make this yummy soup, watch the video by Zeelicious Foods below.
Chef Tolani's 'Ofe Akwu' Recipe Is Perfect For The Weekend
Ofe Akwu is native to the Niger Delta and the South Eastern parts of Nigeria. In the Niger Delta areas, Ofe Akwu is commonly eaten with various fufu recipes: Starch, Pounded Yam, Semolina, Garri and Cassava Fufu.
In the South Eastern parts of Nigeria, Banga Soup is referred to as Ofe Akwu where Ofe means Soup / Stew and Akwu means palm fruit and is used mainly as stew for Boiled White Rice.
Chef Tolani of Diary of a Kitchen Lover is back with a new cooking video.
In this new video, Chef Tolani shares her easy-to-follow recipe for making the 'Ofe Akwu' delicacy.
Watch: