"Osimhen Is The Strongest Striker After Haaland" – Andrea Petagna
Napoli's on-loan forward, Andrea Petagna, praises his teammate Victor Osimhen, calling him the second-strongest striker in the world after Manchester City's Erling Haaland.
Osimhen's impressive performance in Serie A, with 21 goals and 5 assists in 23 games, has attracted the attention of several top European teams, despite Napoli's high asking price of €150.00m.
Petagna identifies Osimhen's speed, hunger, and mobility as traits that make him a valuable transfer target. Osimhen's excellent performance has also made him the most valuable player in the Italian league. Although Haaland was cheaper to sign than Osimhen, he has already proven himself to be worth more than his transfer fee. Despite this, investing in Osimhen could be worth it for any team interested in him.
Photo courtesy: soccernet 
Davido's "Timeless" Album Makes Billboard's Top 50 Best Albums Of 2023
Davido's album "Timeless" from the Nigerian Afrobeats star has secured a spot on Billboard's prestigious "Top 50 Best Albums of 2023: Staff List", claiming the thirty-ninth position. This marks a significant comeback for Davido after a hiatus.
The list features notable albums such as Drake's "For All the Dogs," Metro Boomin's "Spider-Man: Across the Spider-Verse," Lil Yachty's "Let's Start Here," and Doja Cat's "Scarlet," among others.
"Timeless," released in March 2023, earned three nominations for the 2024 Grammy Awards. The nominations include Best Global Album for the album itself, Best African Performance for the song "Unavailable," and Best Global Music Performance for the song "Feel."
Billboard's Dan Rys praises Davido's accomplishment, emphasizing that the album lives up to the artist's acclaim. Rys highlights the diverse range of tracks, from joyous love songs like "In the Garden" to amapiano duets such as "No Competition" with Asake. The review notes the driving dance hits like "Kante" featuring Fave and Highlife odes to luxury like "Na Money" with The Cavemen and Angélique Kidjo. The standout collaboration with Musa Keys, "Unavailable," is described as the crown jewel of the project.
View this post on Instagram
Rys concludes by stating that "Timeless" is a triumph and a landmark album in the global explosion of Afrobeats, marking it as one of the best bodies of work from the past year and certainly the pinnacle of Davido's career.
Tems Announces The Release Of New Single
Tems, the internationally acclaimed artist recognized for her pivotal role in Wizkid's chart-topping "Essence," has sent shockwaves through the music world by announcing the unexpected release of a new single on December 8, 2023. The Grammy-winning sensation decided to use her Instagram feed to exclusively inform her fans of this thrilling news. Within minutes, over 23,000 members were excitedly awaiting the surprise release.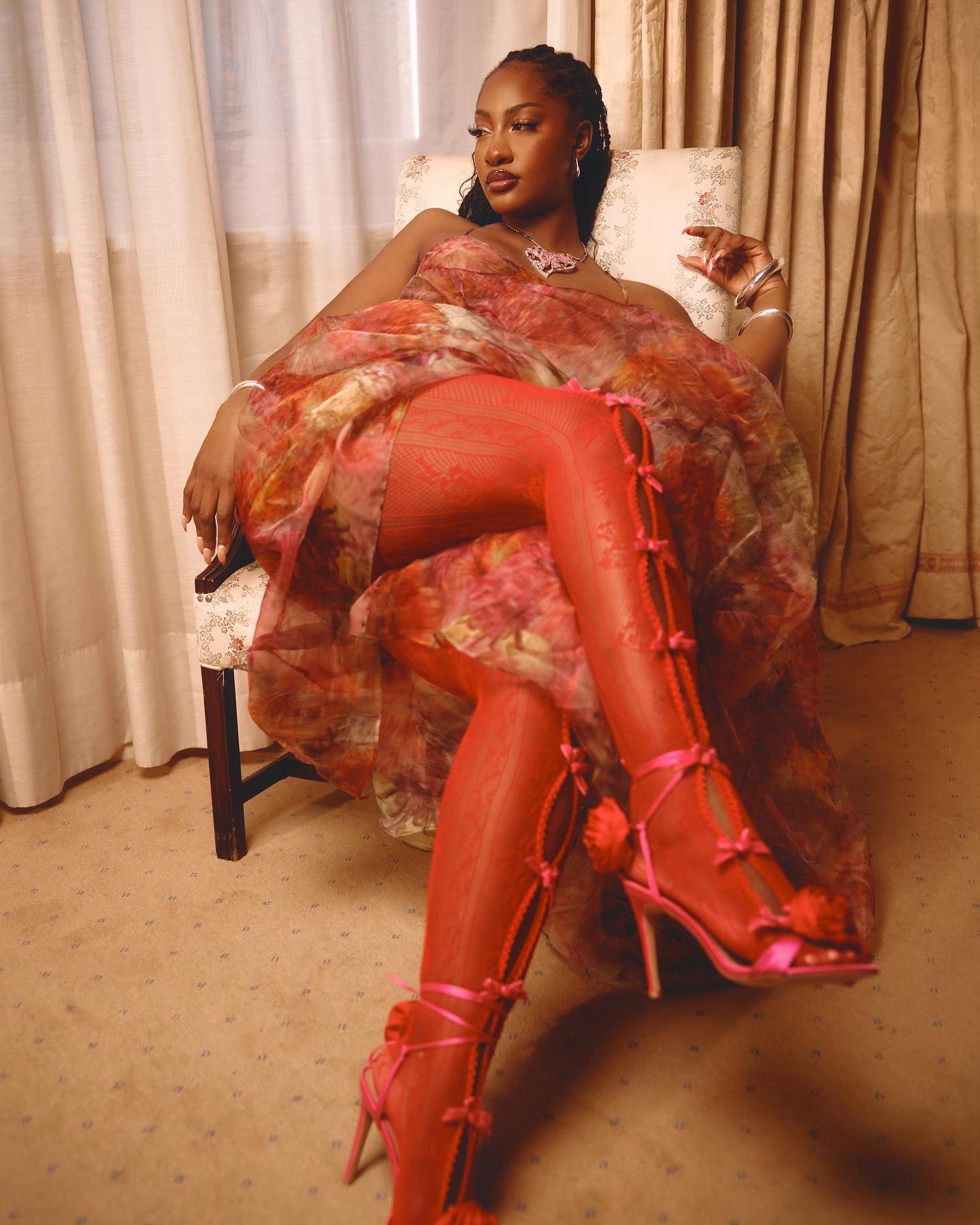 Tems has been making waves all around the world with her recent track "Me & U" which has her distinctive fusion of R&B and Amapiano. Her involvement with "Essence" catapulted her to global prominence, establishing her as one of Nigeria's most esteemed musical exports. She released "Me & U" an R&B and Amapiano blend, in October 2023, and it not only received a warm reception but also secured a spot in the top 10 of the TurnTable Top 100.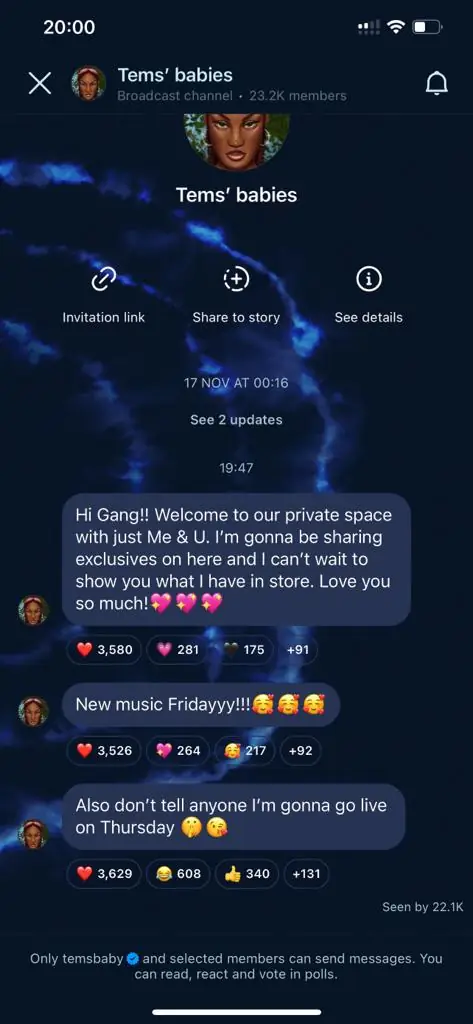 This surprising statement was made via the artist's Instagram account, which was intended to serve as a venue for exclusive news. One of the first significant disclosures on the site was Tems' expression of excitement about sharing what she has in store for her devoted fan base through this channel.
Get the latest and greatest updates right away! Join our exclusive Whatsapp Channel and never miss out on exciting news again.
With her Grammy award for Best Melodic Rap on Future's "Wait For U",  Tems became the first female Nigerian musician to break through and is still breaking boundaries today. Her abilities also extend to the cinematic world, as she was nominated for an Oscar for Best Original Soundtrack for the song "Lift Me" which was sung by Rihanna in the film "Black Panther: Wakanda Forever". The song was nominated for Best Original Soundtrack at the prestigious 2023 Oscars.
Tems is about to captivate audiences with her next single, which is sure to build anticipation. This unexpected release is a lead-up to her highly awaited debut album, which will be released in 2024. Tems is a trailblazer due to her rise from international acclaim to Grammy triumph and her Oscar recognition, and her future musical ventures will likely continue to influence the global narrative of Nigerian music.
If you would like more updates on music, visit here.
Wizkid's 'Essence' Receives Gold Certification In France
The worldwide Afrobeat phenomenon Wizkid is still enjoying the success of his 2020 hit song "Essence" which just achieved a new milestone by being certified gold in France. The certification, granted by SNEP, the official certification agency of France, honours the song's remarkable achievement of achieving over 15 million streams within the nation.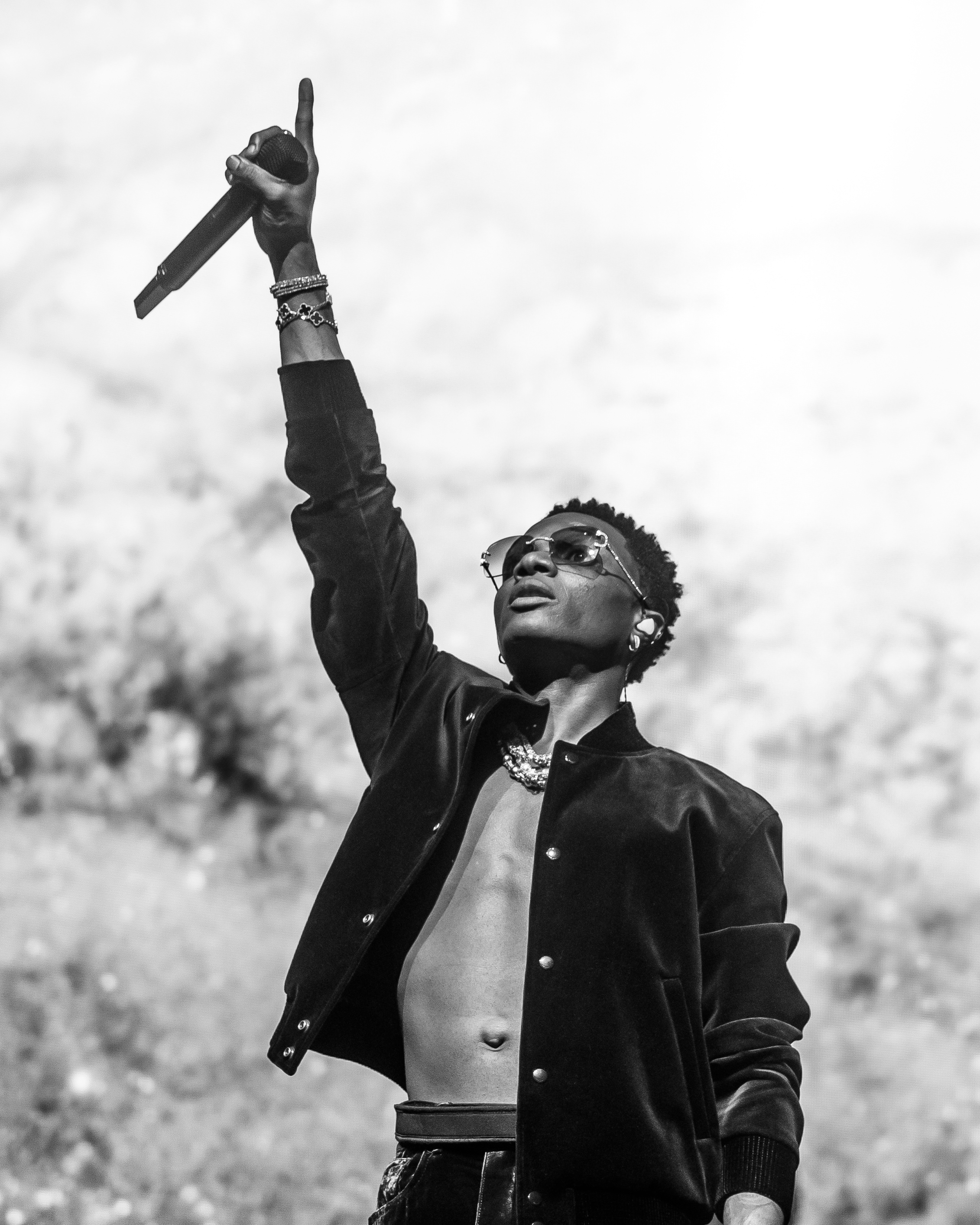 "Essence" which was released as a part of Wizkid's Grammy-nominated fourth album "Made In Lagos" has come to represent the Afrobeats genre's global dominance. 'Essence' has become one of the most certified African songs globally, and its recent gold certification in France is just the latest in a long list of foreign awards that demonstrate how successful it is beyond national boundaries.
Get the latest and greatest updates right away! Join our exclusive Whatsapp Channel and never miss out on exciting news again.
'Essence' reached unprecedented heights thanks to its collaboration with Tems and Justin Bieber, peaked at No. 9 on the Billboard Hot 100 and No. 16 on the UK Official Singles chart. Due to the single's widespread appeal, platinum certifications were obtained for it in South Africa, the United States, the United Kingdom, Switzerland, and Canada.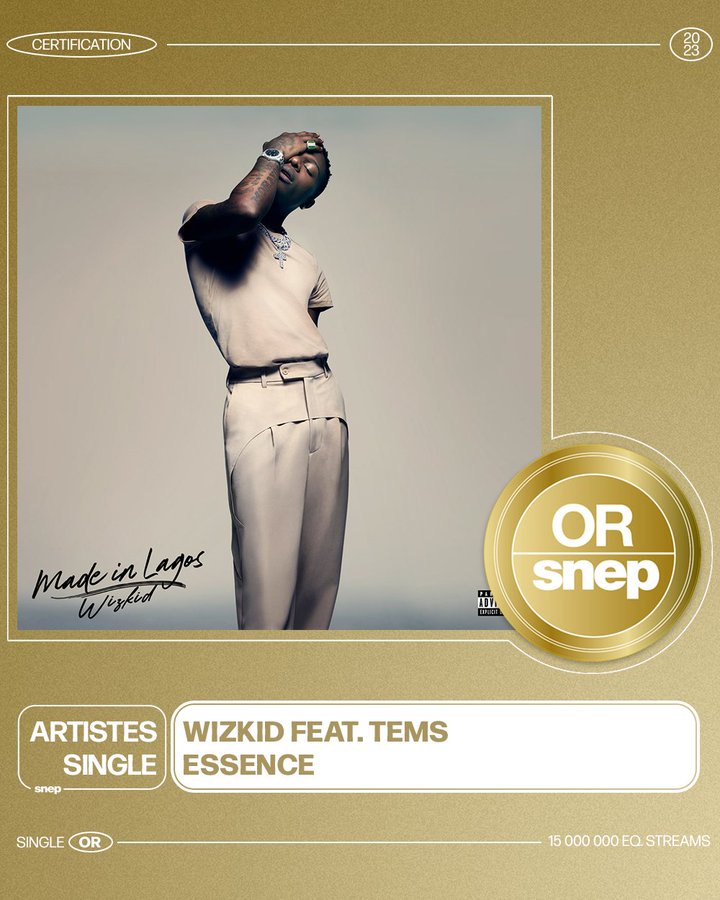 Le titre « Essence » de Wizkid & Tems est certifié Single Or ! 📀

15 000 000 équivalents streams 🎧

Bravo ! 👏 pic.twitter.com/zL9oGTDUCr

— Le SNEP (@snep) December 4, 2023
"Essence" not only topped the charts but also received positive reviews and was nominated for a 2021 Grammy Award in the Best Global Music Performance category. Wikipedia's entry for the song proudly lists its astounding ten award wins, which include the 2021 Soul Train Song of the Year and the 2021 BET Award for Best Collaboration.
'Essence' is a testament to the global acceptance of Afrobeats, even beyond its economic success. It shows how Wizkid can transcend cultural barriers and fascinate people all over the world. The song's global voyage gains a touch of French flair with the gold certification in France, adding yet another chapter to "Essence's" incredible success narrative.
For more news updates, check here.