How "Akara" Became A Sacrificial Food For Brazilian gods
Akara is a popular Nigerian fritter made from bean flour that is often eaten for breakfast.
However, in Brazil, it has evolved into a sacrificial food that is offered to the gods during religious festivals. This evolution began during the trans-Atlantic slave trade, when Yoruba women who were enslaved in Brazil sold Akara as street food to earn money and break away from slavery.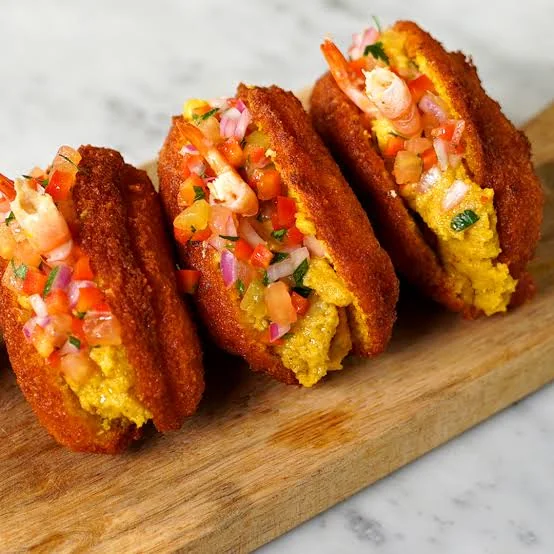 As part of slave resistance, these women would keep a portion of their earnings for themselves and give the rest to their masters. They would call out to potential buyers with "O acará jé ecó olailai ô," and over time, the name of the popular street food changed from Akara to acarajé.
The women's street food business grew and evolved, leading to the development of acarajé, which is made in the same way as Akara, using black-eyed peas, salt, pepper, and onions, blended, mixed and deep-fried. However, acarajé is split open, stuffed with shrimp, and topped with vatapá or caruru.
Today, Baianas, the descendants of these women, still sell acarajé on the streets of Bahia, Brazil, often dressed in the traditional costume of their ancestors. In the Afro-Brazilian religion of Candomblé, acarajé is considered a sacrificial food and is offered to the gods during religious festivals. Those who prepare it and offer it to the gods are most often practitioners of the religion and wear white to display their affiliation.
Photo courtesy: Feast Afrique, K's Cruisine 
How To Make "Marghi Special" By Ify's Kitchen
The Margi people of north eastern Nigeria are the originators of the Nigerian cuisine known as Marghi Special.
It is commonly prepared with fish, spinach, tomatoes, bean sprouts, and additional vegetables such dc mùng. The broth has a tamarind flavour.
In accordance with the particular type of the marghi special recipe, it is topped with fragrant garlic as well as other herbs. It can be eaten with pounded yam, tuwo, white rice, or on its own.
Here's a simplified recipe for marghi by Ify's kitchen. Watch below.
How To Make Peanut Butter By Ify's Kitchen
Peanut butter is a delicious and versatile spread that is made from ground dry roasted peanuts, to which a small amount of oil, sugar, and salt may be added for flavor and consistency.
Peanut butter is a good source of protein, healthy fats, vitamins, and minerals. It can be used as a spread on bread or toast, as an ingredient in various recipes, or simply eaten straight from the jar.
Watch below as Ify's Kitchen takes you through the process of making peanut butter.
How To Make Seafood Okra Soup By Hilda Baci
Seafood okra soup is a delicious and flavourful dish that combines the goodness of seafood with the unique taste and texture of okra. It's a popular recipe in many coastal regions where fresh seafood is abundant.
This satisfying seafood okra soup is perfect for seafood lovers and those seeking a comforting bowl of soup with a touch of tanginess from the okra.
Learn how to make seafood okra soup from Hilda Baci in the video below.
Watch.