Prepare This Yummy Pineapple Smoothie In 5 Simple Steps
Pineapples are delicious tropical fruits with wonderful health benefits.
Pineapple aids digestion, helps to reduce inflammation, accelerate weight loss, boosts the immune system, cures cough, and helps to strengthen the bones.
Pineapples can be added to your daily meals in different ways. It can be eaten raw or blend for juice.
Pineapple smoothie is juicy and very easy to make, here are the steps to help you go about it.
Ingredients
Pineapple & Coconut water
Preparation
* Get a good blender
* Peel the pineapple and cut into small sizes
* Pour the pineapple and coconut water inside the blender
* Blend properly
* Serve with ice
5 Benefits Of Beetroot Juice
Beetroot is classified as a taproot plant, it contains some nutrients like water, carbohydrates and protein. It is nutritious and good for the body. Beetroots have high nutritional value, also supports the liver and can be helpful for weight loss.
However, there are so many benefits one will gain if they take beetroot juice.
1. Improves Your Energy and Stamina
Drinking beetroot juice increases and improves your physical performance, it also opens your blood vessel which increases the oxygen flow in your body making you energetic. Also beetroot juice reduces the oxygen output.
2.  Supports the Liver
Beetroots are products of betaine which offers antioxidants, anti-inflammatory properties that protects the liver from toxins. It is a great liver cleanser which helps prevents fatty deposits in the liver.
3. Lowers Blood Pressure
Beetroot juice helps lower blood pressure. The nitrate increases the nitric oxide which allows more oxygen to flow to our heart, muscles and brain which lowers blood pressure.
4. Makes Your Skin Glow
Beetroot juice helps make your skin glow, free from blemishes. It makes your skin healthy, and it is rich in Vitamin C which helps to remove blemishes from your skin.
5. Easy Digestion
Beetroot juice helps regulate the digestive process and relieves constipation. The juice contains betaine which is an agent for good digestive system, it ensures proper digestion and can be a remedy for upset stomach.
5 Effects Of Taking Carbonated Drinks
Drinks have an advantage such as helping to boost our energy level with the pleasurable taste they give. But they also have a downside.
The disadvantages are are bigger and can be long term. See reasons why you should desist from carbonated soft drinks.
High-sugar soft drinks increase the risk of obesity by 60% and are linked to numerous health issues such as type 2 diabetes, heart disease, and osteoarthritis
Soft drinks can negatively impact dental health, causing tooth decay and cavities due to the erosion of tooth enamel
Drinking carbonated soft drinks can cause belching and heartburn due to the accumulation of carbon dioxide gas in the stomach
Consumption of carbonated soft drinks may result in poor nutrition and a reduced intake of dietary fiber, proteins, starch, and vitamins
Cola-type, carbonated drinks may reduce bone strength in women, leading to weaker hipbones.
Photo courtesy: IndiaMART
6 Reasons Why Beer May Be Good For You
Beer is significantly considered as one of the oldest alcoholic drinks in the world and a really popular drink.
Many netizens love to chill in restaurants and bars with a cool bottle of beer to relax from the stress they may have encountered throughout the day.
However, many people disagree that beer is not healthy as it has its side effect, but research has shown that a moderate amount or intake of beer is good for you.
Research has shown that moderate intake of beer could lower the risk of heart disease like heart failure, heart attack and stroke.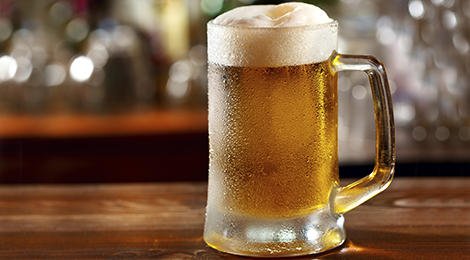 Beer prevents heart diseases as it increases high density lipoprotein (HDL).
Beer does not contain cholesterol but helps improve and boost the cholesterol in your body.
Moderate intake of beer is good for you as it helps lowers the risk of developing dementia.
It also aids bone density in men and women. Beer is an all-natural product, it requires no preservatives, but it is processed; cooked, fermented, filtered and packaged.
Beer also contains tons of B Vitamins particularly folic acid. Beer helps you relax and moderate drinking is advised. Though there might be bad effect of drinking beer, taking a moderate amount of beer could do you good. Drink wisely cause the choice is always yours.