5 Songs That Should Be On Your Wedding Playlist
Weddings are a big part of the Nigerian culture and the perfect song choice could set the right tone for your wedding ceremony.
There are some songs that have remained evergreen in our hearts and they are perfect for your wedding playlist.
We've put together a list of 5 beautiful Nigerian love songs that'll be perfect for your wedding ceremony…
Chike – Roju
Timi Dakolo – Obim
Chike & Simi – Running to You

Adekunle Gold & Simi – Promise
All I Want Is You by Chidinma & Banky W
Perfect for inter-tribal couples. The vocal range is certainly impressive. It's a whole love process from picking a bride up until the wedding itself.

Tips For Choosing The Ideal Bridal Train For Your Wedding
While the bride and groom are the two most important people at a wedding, the fun that comes with your wedding is being able to celebrate and anticipate your big day with your closet friends by your side serving as bridesmaids and groomsmen.
Bridesmaids are considered friends of the bride, who make the day colorful.
You might think you can just call a few friends, assign them a bridal title, and call it a day, but there are a few other things you'll want to consider before you assemble your bridal train.
1.   Know The Number Of Ladies You Need On Your Train
Usually, the number of bridesmaids you have is determined by the size and type of your wedding.  it is important to keep your bridal party proportionate to your number of guests. For instance, 12 bridesmaids for a wedding with 50 guests is a bit outrageous.
2. Consider Their Personalities (Is she a bridesmaid Material)
Before you choose your maids, think about how the entire wedding party will get along. If one person on your list has temperamental personality and tends to rub it on people the wrong way, that's the potential drama you will want to avoid if you can. Instead, aim for a group of bridesmaids awho are friendly, cordial, and can transition easily between groups.
3. What Is The Budget For Bridesmaid
Sometimes, being a bridesmaid might be expensive. In most cases they pay for their dresses, makeup and accessories and sometimes the bridal shower. So consider all the ladies you have in mind first and be sure they are willing and able to commit to this expenses.
4. What Will They Be Wearing
Every bridesmaid will definitely want to look good on that day, but not all of them will like the particular dress you might want them to wear. If you want them to wear a sleeveless dress for instance, some of your maids might not be comfortable in that. So before you choose the ladies, know their sense of style and know what all of them will be comfortable wearing so you don't have problems after selecting the ladies.
5. Don't Be Tempted To Include All Your Siblings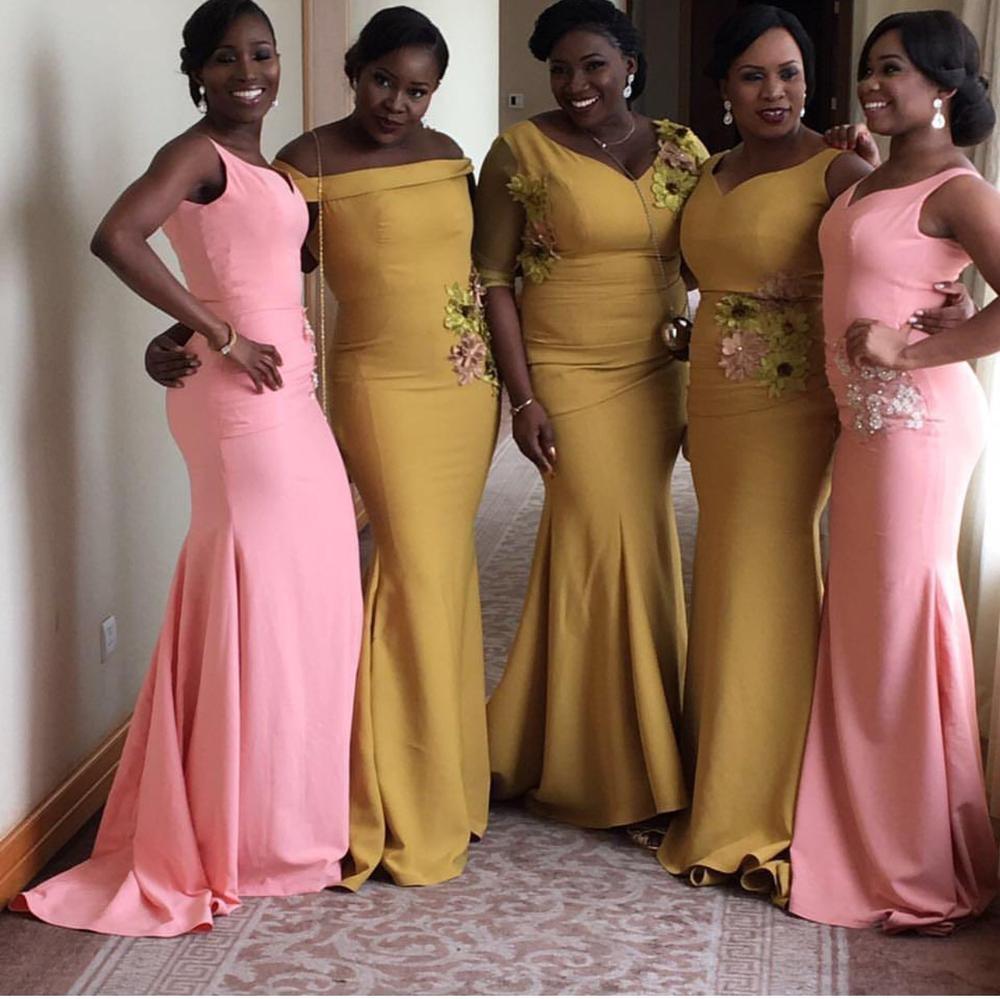 Even if you have three sisters and your fiance has four, you should try not to  include everyone in the wedding party. Your siblings will have other major responsibilities on that day, so try to leave some of them out of the wedding party so that they won't always have to excuse themselves from the bridal party table.
If You Are Considering An Off Shoulder Dress For Your Wedding, These 9 Styles Will Inspire You
Many women get stuck on what style wedding dress they want during planning.
Picking a dress can be stressful, but having a picture of have you want to look on your big day can be the starting point you need.
Most people do not go for off shoulder because they think it's too revealing. With these photos, you will consider picking an off shoulder wedding dress ranging from ball to mermaid tail style.
Have a look at the styles below.

Glamorous Wedding Reception Dresses We Love
Changing from your traditional wedding gown to a more fashion-forward and glamorous wedding reception dress is usually the biggest and most anticipated transition on the wedding day.
Wedding reception dresses are nearly as significant as the wedding gown itself. The goal for any bride is to look breathtaking all through your wedding day and to do that, a lot of thought has to be put into selecting a glamorous reception dress; one that reinforces that it is indeed your big day and help you stand out from your wedding guests.
With so many options out there, women have been able to build up the courage to close the conservative rule book and select glamorous wedding reception dresses befitting of their personal style. This has indeed taken wedding fashion and style to a whole new level.
Need a glamorous look for your wedding reception?
Here are 8 ultra-glamorous wedding reception dresses you should get inspired by…