Playdata Most Played Songs on Nigerian Radio (WEEK 35)
The most played songs on Nigerian radio for the past week.
Tekno's "Pana" retains the number one spot with "Fada" by Phyno and Olamide still seats comfortably on the second position. New entrant  "Little Bit More" by the pretty-boy Nigeria-American singer, Jidenna seems to be gearing up for that number one spot. Check out the chart.
CHART POSITION

1

Fada Fada (Ghetto Gospel)

Phyno Feat. Olamide

2

No Kissing Baby

Patoranking Feat. Sarkodie

3

Cold Water

Major Lazer Feat. Justin Bieber and MO

4

5

6

7

8

Cheap Thrills

Sia Feat. Sean Paul

9

10
PLAYDATA CHARTS RADIO TOP TEN NIGERIA 2016 WEEK 35 (VIDEO)

New Music: Victony Feat. Babyboy AV – Jaga Jaga
Victony has returned with another incredible hit single, "Jaga Jaga", which was highly-anticipated and features Babyboy AV.
It was recently released onto the music scene and has music fans buzzing with excitement. This song, which incorporates elements of R&B, Afrobeats, and probably other musical genres, is creating waves in the present music scene, showcasing the versatility of the artists involved.
This collaborative effort between Victony and Babyboy AV has produced a remarkable piece of music that excels in several aspects, including its soundtrack, production quality, collaboration dynamics, and touching lyrics.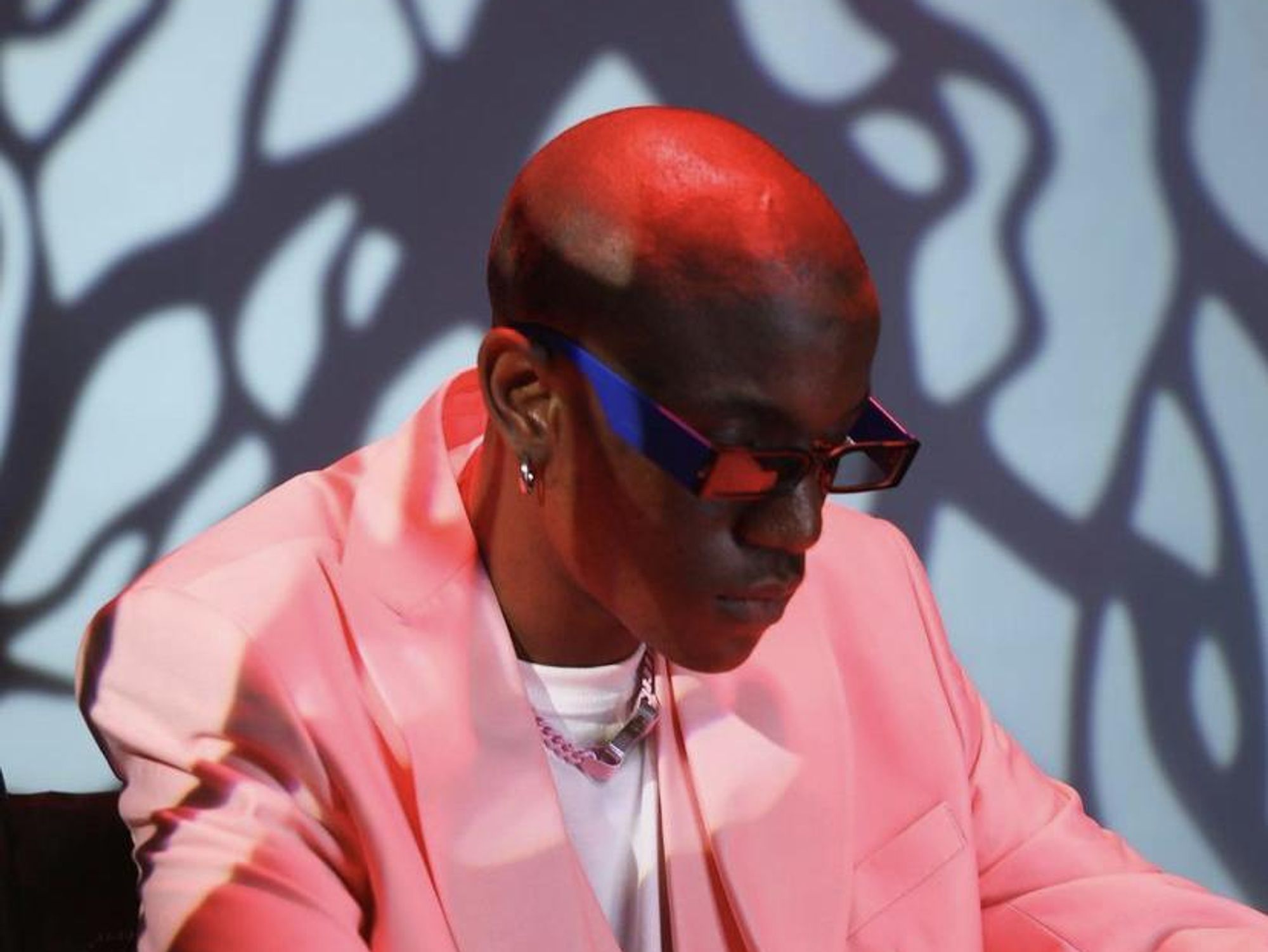 The song's lyrical content strikes a soulful chord, delving into heartfelt personal narratives. It conveys the idea that life has been far from perfect, filled with messy moments, yet the artists express gratitude to a higher power (God), recognizing that without divine intervention, they might have been ensnared in life's troubles. This emotional depth and introspection make the song a compelling and replay-worthy track.
The synergy between Victony and Babyboy AV is seamless, both aimlessly work in perfect harmony.
Victony, as the primary artist, brings his unique style and established musical prowess to the forefront.
Babyboy AV, in his featured role, complements the performance with his unique voice and artistic flair, contributing to the song's overall appeal.
Behind the scenes, KTIZO takes credit as the producer of the song. The songwriting and composition credits are distributed among several individuals, including Anthony Victor (Victony), Adindu Victor (Babyboy AV), Yseult Onguenet, and Chuma "Hoodini" Nwokike.
This diverse group of lyricists and composers implies that "Jaga Jaga" boasts intricate and thought-provoking lyrics, coupled with a complex and compelling musical arrangement.
The official release of "Jaga Jaga" occurred under the labels VICTONY/KVLT, with an exclusive license granted to Encore Recordings. This strategic approach ensures that the song benefits from the combined expertise and resources of these music labels, potentially expanding its reach and impact within the music industry.
"JAGA JAGA" STARRING @babyboyav_ , OUT MIDNIGHT. ✝️ pic.twitter.com/LNAjhDWHDS

— VICTONY (@vict0ny) September 28, 2023
Before its release, the song generated significant anticipation through pre-release promotion on social media platforms. Thousands of views and enthusiastic engagement from fans demonstrated the eagerness surrounding the song's debut, setting the stage for its promising journey in the music charts and the hearts of listeners.
Stream.
Check out more music updates here.
Asake's "Lonely At The Top" Beats Record For Longest Running Song
Nigerian sensation, Asake has accomplished a remarkable milestone by tying for the longest-running number-one song on the Nigerian Radio chart.
After a phenomenal debut year in 2022, highlighted by a series of chart-topping singles and an outstanding debut album, Asake's musical dominance has extended into 2023.
Asake's smash single "Lonely At The Top" from his second album, "Work of Art", has matched the number one record formerly held by Fireboy's "Peru," featuring Ed Sheeran, on the most recent TurnTable Radio list.
Between the chart week of September 15th, 2023, and September 21st, 2023, "Lonely At The Top" spent its tenth non-consecutive week at the pinnacle of the chart, equalling the record established by Fireboy's "Peru" remix during 2021-2011.
.@asakemusik's "Lonely At The Top" becomes the joint longest No. 1 song in radio chart history in Nigeria

"Lonely At The Top" has spent ten non-consecutive weeks at No. 1 on the official radio chart — equalling the 10-week record held by Fireboy DML & Ed Sheeran between 2021 —… pic.twitter.com/SXAvDue7QJ

— TurnTable Charts (@TurntableCharts) September 28, 2023
Asake's "Lonely At The Top" has become a fan favourite. This single is also on track to place a new number one record on the TurnTable Top 100 chart, which uniquely combines data from radio, premium and freemium streaming platforms, and television.
.@asakemusik's "Lonely At The Top"
becomes the joint longest No. 1 song in singles chart history in Nigeria

It logs an eleventh week at #1 on the Official Nigeria Top 100— equalling the 11-week reign of @Omah_Lay's "Godly" (2020 — 21)

See the full chart here… pic.twitter.com/zIniKAmbab

— TurnTable Charts (@TurntableCharts) September 25, 2023
Surprisingly, this maga hit has tied Omah Lay's "Godly" for the longest streak at the top of the TurnTable Top 100 chart with 11 consecutive weeks. The song is likely to surpass this milestone if it maintains its dominance in the upcoming week.
Watch Video Below.
Spotify's New Feature "Jam" Unveiled
Spotify has introduced an exciting new feature called "Jam", a fascinating new tool that seeks to improve the experience of sharing music with friends and other groups.
Users can engage in real-time listening sessions with one another thanks to this inventive feature, fostering relationships via the love of music together.
"Jam" expands on some of Spotify's well-liked social tools, like Blend and Collaborative Playlists, by making use of the platform's personalisation technologies to promote group listening.
Groups can engage in synchronised and collaborative music listening with "Jam" which includes shared queue control, tailored song recommendations for the group, and the option to see who added each item to the playlist.
Here's how "Jam" functions
1. A Jam session is started by a Premium user by choosing a playlist or song to play.
2.  A "Start a Jam" button becomes accessible by clicking the Connect button at the bottom of the screen or using the three-dot menu within a playlist, album, or song.
3. The user has the option of playing the song on either a speaker or a phone. The Jam session will be open to other members of the same household who are connected to the same Wi-Fi network.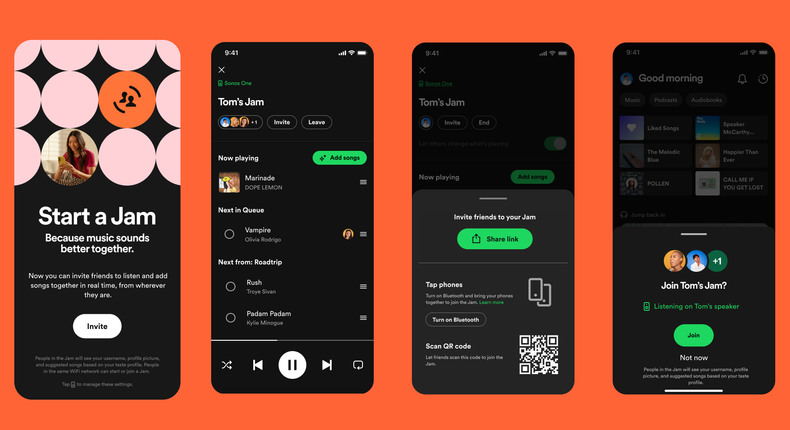 4. There are three different methods the host can invite friends (both Premium and Free users):
Activating Bluetooth and tapping phones together.
Allowing friends to scan a QR code displayed on the host's screen.
Sharing a link through various social platforms, text messages, SMS, and more.
5. From their individual devices, Jam participants may upload songs to the queue as a group, see who contributed each track, and get personalised music recommendations.
6. The host has the power to control the Jam session, including selecting participants, changing the playlist's order, and eliminating songs that don't fit the mood.
7. The host can also turn on "Guest controls," which gives everyone access to edit or rearrange music. Only the host has the power to change the queue while "Guest controls" are disabled.
However, starting on September 27, 2023, "Jam" will be made available to all Spotify users, both Premium and Free, across the globe. With the help of this intriguing feature, friends and groups will be able to interact and enjoy music together in an entirely new way.
Watch Video Below