Jonathan Bulter, Mi Casa And A'rese To Perform Love At "A Night At The Kazbah" Concert
Jonathan Bulter, Mi Casa And A'rese To Perform Love At "A Night At The Kazbah" Concert
From the curators of contemporary African and Nigerian music comes 'A Night At The Kazbah'. This premium one night-only concert returns on the 22nd of October 2016 at The Federal Palace Hotel, Lagos for another season and there's no excuse to miss a beat.
Presented by Smooth 98.1FM, 'A Night at the Kazbah' is more than just music; it's a cultural exploration designed to bring good Nigerian, African and World music to the forefront of our consciousness and promote indigenous artistry.
Last year, 'A Night At The Kazbah' was a huge success as it reshaped live music on the Lagos scene with a pioneering blend of Afro Soul and Afro Jazz where it featured Ruby Gyang, Bez, Kunle Ayo & Brymo. This year's concert boasts a bigger line-up that will be headlined by South African singer songwriter and guitaristJonathan Butler supported by soulful house trio Mi CASA and The Voice Nigeria reality TV winner, A'rese.
Tickets to 'A Night At The Kazbah' come in three tiers, Prestige VIP Packs for N500, 000 (each pack comes with 10 invitations) Premium Tickets (N20, 000) and Standard Tickets (N10, 000). Get your tickets online at Afritickets.com, Ariiyatickets.com and Naijaticketshop.com or call Ticket Hotlines +2349053847168 and+2349053847169.
Official Ticket Outlets include Terra kulture, Jazzhole and Smooth FM Studios.
Chrystallis Conversations Presents "FEAR-LESS" Live
Chrystalis Conversations in conjunction with Alpher by Union Bank presents "FEAR-LESS: Pursuing Your Best Life with Courage and Conviction". This event is set to be hosted by the dynamic and seasoned Kemi Ogunleye.
The theme of "FEAR-LESS" aims to create a supportive community where participants would have mindset shifts to embrace vulnerability, overcome obstacles, and set achievable goals. It would provide practical tools, and actionable advice to help participants step outside their comfort zones and pursue their best lives fearlessly. This would help them to embrace life's challenges with courage and conviction even in the presence of fear.
In this transformative event, Kemi Ogunleye brings her passion for inspiring others. Her charismatic presence and engaging style together with the honourable guests which include: Banky Wellington (Banky W), Ego Boyo, Wana Wana, Dolly Phillips, etc, will guide attendees through discussions that explore the nature of fear, its impact on growth, and strategies for cultivating courage and conviction.
She said:
"I realised that there is never really an absence of fear when you want to break new grounds or reach for bigger things. If you really want to pursue your purpose, you're going to have to get a bit comfortable with fear. If you're waiting until you have no fear, you will be waiting forever."
Whether you are seeking personal growth, professional development, or a renewed sense of purpose, "FEAR-LESS: Pursuing Your Best Life with Courage and Conviction" promises to be an empowering experience.
This life-changing event holds on the 1st of June, 2023 by 5:00 pm (Nigerian time).
Hero Lager Introduces People's Hero Initiative "URU DIA"
"True heroes are made of hard work and integrity." – Hope Solo. That's what the beer, Hero Lager is made of with its launch in 2012 the beer is now widely consumed in the country, known as the beer for the locals by the locals, with its progress over the years, Hero Lager has gradually climbed the succession ladder and in the process built a worthy brand for itself.
The Hero Lager is known for its numerous supports, funding for so many outstanding purposes like assisting young entrepreneurs, sponsoring the Nigerian Football Premier League and now it has finally dived into the Music Industry. The brand has introduced a platform known as the People's Hero Initiative or Uru Dia with the sole purpose of fostering an eco-system for creatives in the music industry.
The event took place at the Radisson Blu Hotel, Ikeja with so many guests and celebrities.
The Director of Legal & Corporate Affairs International Breweries Plc, Mrs. Tope Timi said during the opening remark.
" The brand creates opportunities for people to thrive and now we are experiencing a very new dimension in our brand support through the Uru Dia campaign, a platform for creatives to showcase their worth and get rewarded for it. Starting with the Music Industry, we've observed the lack of a thriving eco-system, our support will be of help to many talented creatives in the south-east and south-south regions of Nigeria. With this platform provided by Hero Lager, we look forward to a very significant impact which will be made in improving the creative industry and the society in general. Our brand has transformed the lives of many Nigerians promoting community and economic growth through various initiatives and impactful project like sponsoring the Nigerian football Premier League, a league that gives opportunities for young footballers to showcase their talents and pursue their dreams. Through the People's Hero Initiative, our Hero brand is providing a solid platform which will include funding and mentorship of fast-rising music artists in communities where we operate."
A panel was hosted to discuss the sole aim of the new campaign/platform, which included the Nigerian actor Mr. Nkem Owoh also a brand Ambassador of Hero Lager, Mr. Dubem Orji the Marketing Manager of Hero Lager, Nigerian rapper and brand ambassador of Hero Lager iLLBLISS  and other distinguished guests of honour.
Awards were given to the recipients of Uru Dia Campaign (People's Hero Initiative) which includes the veteran music artists; Ife, Kolaboy, Ikpa Udo, Zani, Sparkle Tee, Kodopearl, Dandizzy, Ifex G and music producers Major Bangz, Kezyklef and Bami.
See photos from the event below-
Tips For Choosing The Ideal Bridal Train For Your Wedding
While the bride and groom are the two most important people at a wedding, the fun that comes with your wedding is being able to celebrate and anticipate your big day with your closet friends by your side serving as bridesmaids and groomsmen.
Bridesmaids are considered friends of the bride, who make the day colorful.
You might think you can just call a few friends, assign them a bridal title, and call it a day, but there are a few other things you'll want to consider before you assemble your bridal train.
1.   Know The Number Of Ladies You Need On Your Train
Usually, the number of bridesmaids you have is determined by the size and type of your wedding.  it is important to keep your bridal party proportionate to your number of guests. For instance, 12 bridesmaids for a wedding with 50 guests is a bit outrageous.
2. Consider Their Personalities (Is she a bridesmaid Material)
Before you choose your maids, think about how the entire wedding party will get along. If one person on your list has temperamental personality and tends to rub it on people the wrong way, that's the potential drama you will want to avoid if you can. Instead, aim for a group of bridesmaids awho are friendly, cordial, and can transition easily between groups.
3. What Is The Budget For Bridesmaid
Sometimes, being a bridesmaid might be expensive. In most cases they pay for their dresses, makeup and accessories and sometimes the bridal shower. So consider all the ladies you have in mind first and be sure they are willing and able to commit to this expenses.
4. What Will They Be Wearing
Every bridesmaid will definitely want to look good on that day, but not all of them will like the particular dress you might want them to wear. If you want them to wear a sleeveless dress for instance, some of your maids might not be comfortable in that. So before you choose the ladies, know their sense of style and know what all of them will be comfortable wearing so you don't have problems after selecting the ladies.
5. Don't Be Tempted To Include All Your Siblings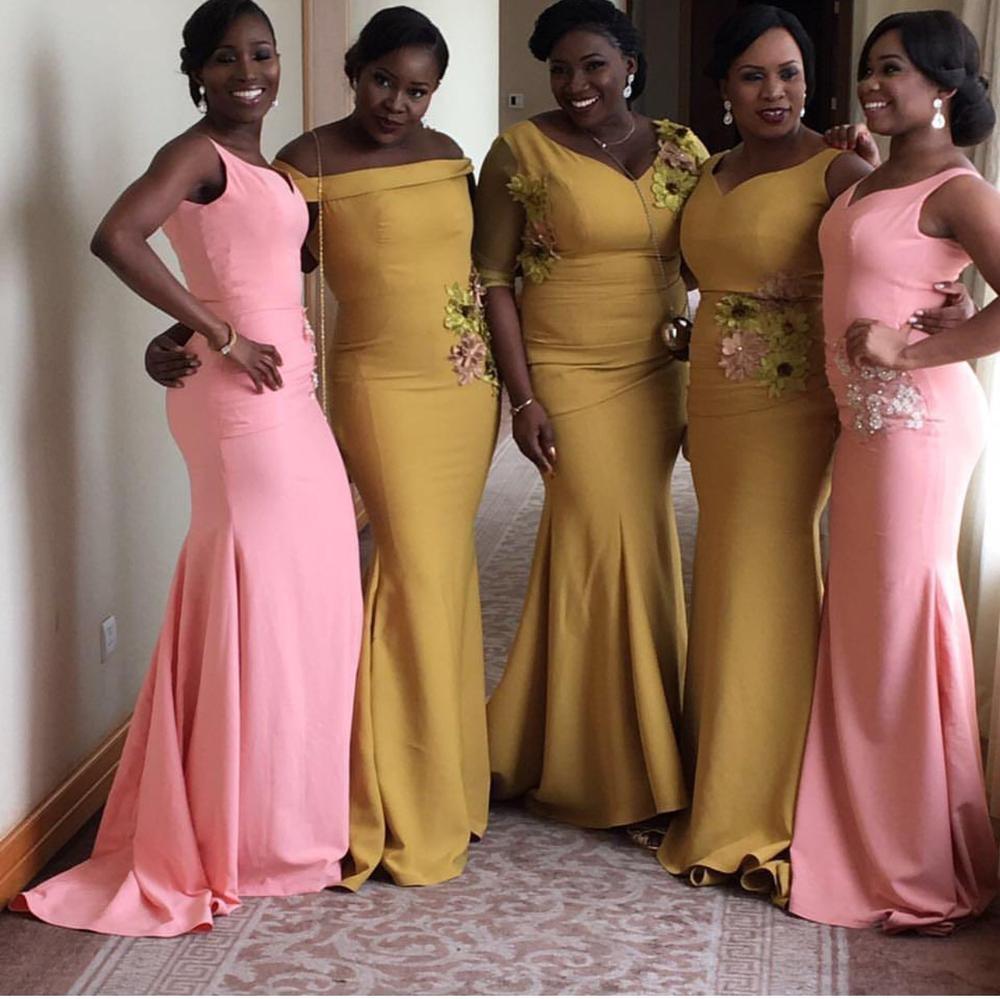 Even if you have three sisters and your fiance has four, you should try not to  include everyone in the wedding party. Your siblings will have other major responsibilities on that day, so try to leave some of them out of the wedding party so that they won't always have to excuse themselves from the bridal party table.