Stylish Ways Men Can Rock Their Cardigans
A cardigan is a type of sweater or knitwear that typically has an open front, making it easy to put on and take off. It is named after James Thomas Brudenell, the 7th Earl of Cardigan, who popularized this style of knitwear in the 19th century.
Cardigans come in a variety of styles and colours and can be made from a variety of materials such as wool, cotton, or blends.
A cardigan is a versatile and timeless piece of clothing that can be worn by anyone in various settings and occasions. They are versatile because they come in a variety of styles, lengths, and materials making them suitable for both casual and semi-formal wear.
How To Rock A Cardigan
Wearing a cardigan is straightforward, and it offers a great deal of versatility. Here are the basic steps for wearing a cardigan:
1. Select the Right Size: Ensure that the cardigan fits you. It should neither be too tight nor too loose. The sleeves should reach your wrists, and the length should be appropriate for your body type.
2. Choose a Suitable Style: Cardigans come in various styles, like button-up, zip-up, or open-front. Choose a style that suits your preference and the occasion.
3. Coordinate with Outfit: Pair your cardigan with complementary clothing items. For a casual look, wear it with jeans and a T-shirt. For a more formal appearance, opt for dress trousers, a button-down shirt, and a tie.
4. Layering: Cardigans are excellent for layering especially when you feel like dressing in layers. For extra warmth and style, you can layer them over a shirt, polo, or even a thin sweater.
5. Accessories: Consider adding accessories like a belt or a scarf to enhance your outfit.
Several Ways To Rock A Cardigan
1. Casual Look: Pair a lightweight cardigan with jeans and a simple t-shirt for a relaxed, everyday outfit. This would undoubtedly give you the laid-back look you're going for.
2. Business Casual: Combine a well-fitted cardigan with dress trousers, a button-down shirt, and leather shoes for a polished business casual appearance.
3. Layered Fashion: To add warmth and style, layer a cardigan over a collared shirt or a patterned sweater.
4. Formal Occasions: A cardigan can serve as a suitable substitute for a blazer at semi-formal events. For a sophisticated appearance, wear it with dress pants and a tie.
Places You Can Wear A Cardigan (For Nigerian Men)
Nigerian men can wear cardigans to a variety of occasions, including:
1. Office: In a business-casual work environment, a cardigan can be a stylish and comfortable choice. It can be a chic and cosy option in a business-casual work setting.
2. Casual Outings: Whether you're going for a casual lunch, shopping, or a social gathering, a cardigan can elevate your casual look.
3. Date Night: A well-chosen cardigan can make a great date night outfit when worn with slim-fit pants and a sharp shirt.
4. Religious Gatherings: Cardigans are also a modest and stylish choice for attending religious services and gatherings.
5. Family Events: Family gatherings and celebrations are perfect occasions to wear cardigans because they combine comfort and style.
In conclusion, cardigans are adaptable garments that Nigerian men can wear in a variety of ways. Why don't you add this to your wardrobe as well and rock it the way you feel?
Chioma Nnadi Appointed Head Of Editorial Content At British Vogue
Chioma Nnadi has officially been appointed as the Head of Editorial Content at British Vogue, as announced by Condé Nast, the magazine's owner.
This announcement confirms months of speculations within the fashion industry. The change is significant as it coincides with the transition of Edward Enninful, the European Editorial Director of Vogue and Editor-in-Chief of British Vogue, into a global advisory role.
In recent years, Condé Nast has been implementing cost-cutting measures and streamlining editorial operations by eliminating the Editor-in-Chief roles at many of Vogue's international editions. Notably, Edward Enninful was the exception, retaining his position, alongside Vogue's Global Editorial Director, Anna Wintour.
Edward Enninful's position will now be filled by Chioma Nnadi, a highly acclaimed Vogue veteran with an exceptional thirteen-year tenure with the publication. British Vogue now follows the same editorial guidelines as other European versions of the magazine as a result of this tactical decision.
In these editions, the traditional Editor-in-Chief positions have been phased out, making way for younger, digitally savvy, and more cost-effective editorial leaders.
Chioma Nnadi's abilities were commended by Anna Wintour, an influential figure at Condé Nast and in the fashion industry, who said that she had shown a remarkable ability to connect with a digital audience. She also praised Chioma Nnadi's accomplishments in boosting Vogue's visibility, reputation, and impact on numerous platforms.
This new act demonstrates the magazine's dedication to adapting to the shifting climate of fashion media and its continued efforts to maintain relevance and leadership in the digital age.
For more entertaining content, click here.
View this post on Instagram
Burberry Summer Fashion Event In London Features Bukayo Saka, Eze, Son, And Wizkid
Burberry Summer Fashion event in London was a glamourous event featuring Premier League luminaries like Eberechi Eze and Son Heung-Min, along with the global music sensation, Wizkid.
The emerging Arsenal star, Bukayo Saka, recently appeared at the prestigious Burberry Summer Fashion Event in London which brought together not only football talent but also musical prowess.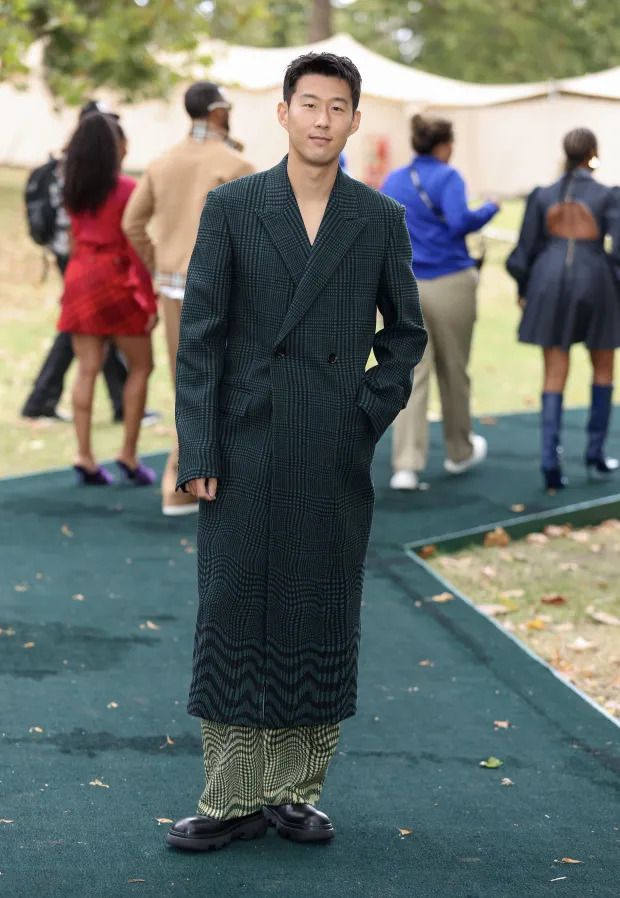 Each football player made a fashion statement that reflected their distinct sense of style. Saka and Son wore stylish all-black outfits that radiated refinement, possibly going for a more understated approach. Eberechi Eze, in contrast, stole the show with a colourful two-piece checkered suit that had a maroon top paired with eye-catching vivid red bottoms. Eze's choice of clothing not only displayed his sense of fashion but also his confidence to stand out in the crowd.
Wizkid and Bukayo Saka at the Burberry fashion show in London.

STARBOYS 🇳🇬💜 pic.twitter.com/0i4S6RU5k9

— NTS. (@NoteSphere) September 18, 2023
The presence of Wizkid gave this celebrity-studded event an additional dimension of intrigue. Wizkid brought his special brand of stardom to the occasion. His presence unquestionably raised the event's stature by merging the worlds of athletics and music in a captivating and memorable way.
Together, these Nigerian talents showcased their excellence not only in their respective fields but also in the realm of fashion and entertainment on this remarkable London evening.
😎✨ Son Heung-min, Eberechi Eze & Bukayo Saka were present at the Burberry summer fashion show! pic.twitter.com/hETLAiRsG9

— EuroFoot (@eurofootcom) September 18, 2023
Wizkid & Bukayo Saka at Burberry SS24. pic.twitter.com/RJju3PitiS

— The Top Charts ® (@topchartsafrica) September 18, 2023
Clothing Colours for African Skin Tone
"Skin Tone" is a person's natural skin colour, which is mostly influenced by the kind and quantity of melanin that is found on the skin. The pigment melanin, which is generated by melanocytes in the epidermis (the top layer of skin) is what causes the differences in skin tones across various racial and ethnic groups.
People of African heritage can have a broad range of skin tones because of genetic variation and environmental variables.
Although these classifications are not all-inclusive, African skin tones are highly variable and may be generally divided into numerous groups:
1. Dark Brown to Ebony Skin: Deep, dark brown to ebony complexion tones are common among persons of African heritage. These skin tones stand out for their rich, deep colour.
2. Medium to Dark Brown Skin: Some people have skin tones that range from medium to dark brown, varying in richness and depth.
3. Olive to Warm Brown Skin: Some Africans have skin tones that lean towards olive or warm brown tones. These skin tones often have undertones of yellow or red.
4. Deep Reddish or Copper Toned: Some individuals have skin tones with deep reddish or copper undertones. This can give the skin a unique and striking appearance. In some cases, the skin may seem distinctive and stunning as a result.
5. Golden to Yellow Undertones: Some African skin tones have undertones that range from golden to yellow, which may make the skin look glowing and warm.
6. Rich Mahogany and Chocolate Brown Skin: And then, there are people with skin tones that resemble deep mahogany or chocolate brown.
It is crucial to bear in mind that individual preferences and personal style also play a big influence when selecting colours of clothes that compliment African skin tones. However, the following basic rules can assist you in selecting apparel colours that will complement diverse African skin tones:
1. For Dark Brown to Ebony Skin: 
These skin tones can be complemented by vivid and striking hues including deep reds, royal blues, emerald greens, and deep purples.
Earthy tones like browns and deep oranges can create a harmonious look.
Metallic shades like gold and bronze can provide a stunning contrast.
2. For Medium to Dark Brown Skin:
These skin tones' richness can be enhanced by jewel tones like sapphire, amethyst, and ruby.
Warm earthy colours like mustard, terracotta, and olive green might look good.
Avoid clothing that is too close in colour to your skin tone, as it may create a monotonous look.
3. Olive to Warm Bown Skin:
These skin tones can be complemented by earthy hues like warm browns, olive greens, and mustard yellows.
Pastel shades such as peach, coral, and soft pinks can provide a lovely contrast.
Avoid colours that wash out your complexion, like pale or muted tones.
4. Deep Reddish or Copper Tones:
Deep oranges, burgundy, and rust, as well as other warm, rich hues, can bring out the skin's crimson undertones.
Earthy tones like browns and olive greens can create a harmonious look.
5. Golden to Yellow Undertones:
These skin tones can be complemented by bright, warm colours like deep reds, burnt oranges, and mustard yellows.
Emerald green and sapphire blue are two jewel tones that may clash sharply.
Avoid colours that are too cool or washed out, as they may clash with the warm undertones.
6. Rich Mahogany and Chocolate Brown Skin:
Earthy tones like deep browns, forest greens, and warm reds can enhance the richness of these skin tones.
Metallic shades like gold and copper can provide a stunning contrast.
It is critical to keep in mind that these are only general recommendations and that individual tastes and preferences should always be considered. The easiest method to figure out what looks well on you is to experiment with different colours and see how they make you feel and compliment your skin tone.
In conclusion, the range of African skin tones, from deep ebony to warm brown, is extremely diverse. To develop a wardrobe that complements your natural attractiveness and gives you a sense of confidence and comfort, take into account both your skin tone and personal style preferences when picking the colours of your outfits.