How To Style Your Collared Shirts
Have you ever tried on a really nice, collared shirt but don't know how to style it to suit your taste?
I can relate to that because a huge percentage of the ladies find it difficult to style their collared shirts with other outfits.
However, all hope isn't lost because your fashion saviour pear-shaped stylist has some pretty useful tips on how to style your collared shirts and look good in them.
See the video below.
View this post on Instagram
13 Wardrobe Essentials To Own As A Lady
The core of your wardrobe is made up of a selection of versatile and timeless clothes and accessories, generally referred to as Wardrobe essentials. You can look fashionable and put together for a variety of events by using these basic items as the foundation for a variety of outfits.
The following is a list of closet necessities every lady should consider having, along with tips on how to use them and how many you might need:
1. White Button-Down Shirt
Versatile: Suitable for both formal and informal settings and may be dressed up or down.
Style Tip: For a sophisticated appearance, you can tuck your white button-down shirt into high-waisted pants or jeans.
Quantity: At least one but having both a classic and a relaxed-fit version is great.
2. T-Shirt (White and Black)
Versatile: Perfect for layering or wearing on its own.
Style Tip: Pair with jeans, skirts, or blazers for an elegant look.
Quantity: Multiple, as these are everyday essentials.
3. Black Blazer
Versatile: Elevates any outfit and adds a touch of sophistication.
Style Tip: Pair it with jeans, fitted pants or a dress.
Quantity: One should be sufficient
4. Little Black Dress (LBD)
Versatile: Suitable for a range of events, including parties and dinners.
Style Tip: Dress it up with heels and statement jewelry or dress it down with flats.
Quantity: One is typically enough, but having different styles is a bonus.
5. Jeans (Dark Wash)
Versatile: Depending on the setting, can be dressed up or down.
Style Tip: Pair with a variety of tops and shoes for a fashionable look.
Quantity: At least one pair, but you might want different styles (skinny, straight-leg, baggy etc.).
6. Tailored Trousers
Versatile: Ideal for the workplace or more formal events.
Style Tip: Match with blouses, sweaters, or blazers for an elegant look.
Quantity: One or two pairs in neutral colours.
7. Pencil Skirt (Neutral Colour)
Versatile: Suitable for the office or a polished daytime appearance.
Style Tip: Combine with blouses or knits.
Quantity: One in a classic colour like black, gray, or navy.
8. Comfortable Flats
Versatile: Perfect for both daily wear and long walks.
Style Tip: Pair with dresses, skirts, or casual pants.
Quantity: At least one pair, but preferably more for variation.
9. High Heels
Versatile: Upgrade your style for special occasions or formal events.
Style Tip: Match with dresses, skirts, or tailored pants.
Quantity: One or two pairs in neutral colours like black or nude.
10. Statement Accessories
Versatile: Add flair to your outfits with belts, scarves, and statement jewelry.
Style Tip: Use accessories to change the appearance of your basics.
Quantity: Several to mix and match.
11. Basic Sweaters
Versatile: Keep you warm and can be layered or worn on their own.
Style Tip: Pair with jeans, skirts, or trousers.
Quantity: You can pick a few in different colours and styles (crewneck, V-neck, etc.).
12. Outerwear (Coat or Jacket)
Versatile: Essential for staying warm and stylish in colder weather. It is a must in colder climates to be warm and fashionable.
Style Tip: Choose a versatile style that complements your wardrobe.
Quantity: One or two, depending on climate.
13. Quality Undergarments
Versatile: Provide a comfortable and smooth foundation for your outfits.
Style Tip: Invest in well-fitting bras, panties, and shapewear.
Quantity: Several sets for daily wear.
Depending on your personal style, way of life, and environment, you may require a different number of closet essentials. While these are the fundamental necessities, you can add more items to your wardrobe that express your unique preferences and style. Check your wardrobe frequently to make sure your necessities are in good shape and are complemented by fashionable or seasonally appropriate pieces to keep your style fresh and up-to-date.
Check out more on fashion here.
Chioma Nnadi Appointed Head Of Editorial Content At British Vogue
Chioma Nnadi has officially been appointed as the Head of Editorial Content at British Vogue, as announced by Condé Nast, the magazine's owner.
This announcement confirms months of speculations within the fashion industry. The change is significant as it coincides with the transition of Edward Enninful, the European Editorial Director of Vogue and Editor-in-Chief of British Vogue, into a global advisory role.
In recent years, Condé Nast has been implementing cost-cutting measures and streamlining editorial operations by eliminating the Editor-in-Chief roles at many of Vogue's international editions. Notably, Edward Enninful was the exception, retaining his position, alongside Vogue's Global Editorial Director, Anna Wintour.
Edward Enninful's position will now be filled by Chioma Nnadi, a highly acclaimed Vogue veteran with an exceptional thirteen-year tenure with the publication. British Vogue now follows the same editorial guidelines as other European versions of the magazine as a result of this tactical decision.
In these editions, the traditional Editor-in-Chief positions have been phased out, making way for younger, digitally savvy, and more cost-effective editorial leaders.
Chioma Nnadi's abilities were commended by Anna Wintour, an influential figure at Condé Nast and in the fashion industry, who said that she had shown a remarkable ability to connect with a digital audience. She also praised Chioma Nnadi's accomplishments in boosting Vogue's visibility, reputation, and impact on numerous platforms.
This new act demonstrates the magazine's dedication to adapting to the shifting climate of fashion media and its continued efforts to maintain relevance and leadership in the digital age.
For more entertaining content, click here.
View this post on Instagram
Burberry Summer Fashion Event In London Features Bukayo Saka, Eze, Son, And Wizkid
Burberry Summer Fashion event in London was a glamourous event featuring Premier League luminaries like Eberechi Eze and Son Heung-Min, along with the global music sensation, Wizkid.
The emerging Arsenal star, Bukayo Saka, recently appeared at the prestigious Burberry Summer Fashion Event in London which brought together not only football talent but also musical prowess.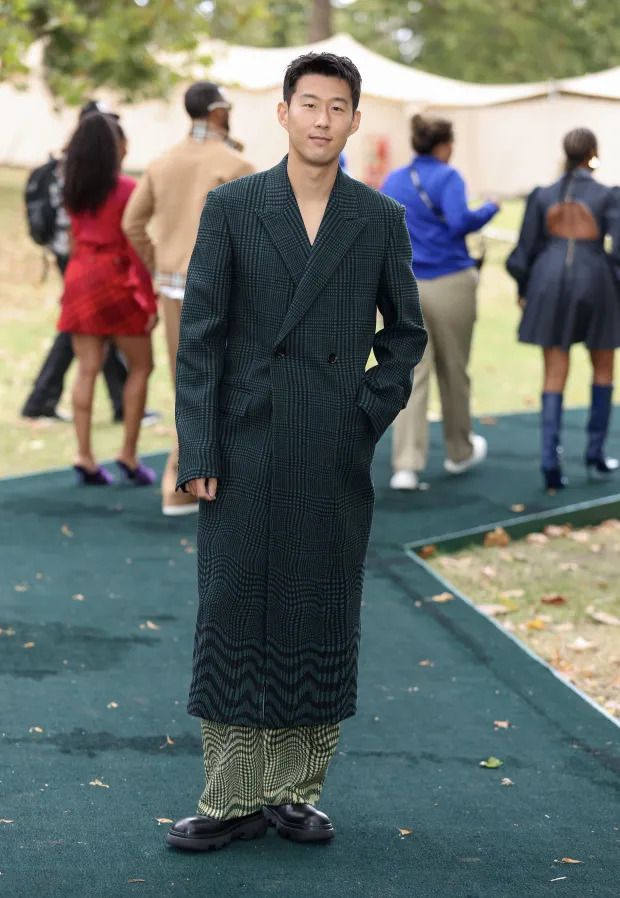 Each football player made a fashion statement that reflected their distinct sense of style. Saka and Son wore stylish all-black outfits that radiated refinement, possibly going for a more understated approach. Eberechi Eze, in contrast, stole the show with a colourful two-piece checkered suit that had a maroon top paired with eye-catching vivid red bottoms. Eze's choice of clothing not only displayed his sense of fashion but also his confidence to stand out in the crowd.
Wizkid and Bukayo Saka at the Burberry fashion show in London.

STARBOYS 🇳🇬💜 pic.twitter.com/0i4S6RU5k9

— NTS. (@NoteSphere) September 18, 2023
The presence of Wizkid gave this celebrity-studded event an additional dimension of intrigue. Wizkid brought his special brand of stardom to the occasion. His presence unquestionably raised the event's stature by merging the worlds of athletics and music in a captivating and memorable way.
Together, these Nigerian talents showcased their excellence not only in their respective fields but also in the realm of fashion and entertainment on this remarkable London evening.
😎✨ Son Heung-min, Eberechi Eze & Bukayo Saka were present at the Burberry summer fashion show! pic.twitter.com/hETLAiRsG9

— EuroFoot (@eurofootcom) September 18, 2023
Wizkid & Bukayo Saka at Burberry SS24. pic.twitter.com/RJju3PitiS

— The Top Charts ® (@topchartsafrica) September 18, 2023