Facial Scrub : An Important Skincare Routine
The skin is sensitive and needs to be taken care of properly with the proper treatments and procedures. However, a crucial aspect shouldn't be forgotten which is your face.
Your face is the first thing anybody notices about you so we need to make sure we take extra care of our face. An easy way of taking care  of our face is to do facial scrub and there are so many benefits to gain.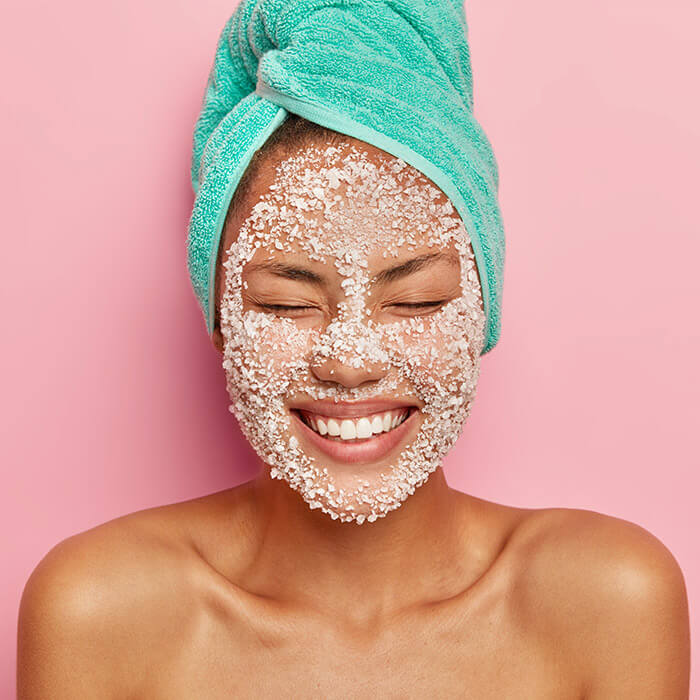 Facial scrub is a necessity for a healthy skincare routine, this is important because debris of dirt, dust places itself on our faces. Face scrub helps eliminate  dead skin cells from our faces since these cells make our faces dry.
Our body generates oils which acts as  a natural moisturizer but sometimes our skin might get too oily which might lead to breakout. That is why facial scrub is necessary in order to prevent breakout as well as the chances of having acne.
There are so many benefits face scrub offers in order to boost your skincare routine, it helps make the face skin smoother and brighter, prevents acne scars from appearing on your face, rather  those dark patches/scars become lighter in tone. With face scrub added to your skincare routine, you are bound to have a healthy and smooth face.
Can Aloe Vera Make Skin Spotless?
Can Aloe Vera Make Skin Spotless? The answer to this question and many more is waiting for you, dear reader, in this article as you read through.
Aloe vera also known as the "plant of immortality", is a succulent plant that has been used for centuries for its several health and beauty benefits.
This plant belongs to the family of Liliaceae and is native to the arid regions of North Africa, but it is now cultivated worldwide for its several qualities and properties.
The aloe plant is characterized by its thick, fleshy leaves, which contain a gel-like substance that is packed with vitamins, minerals, enzymes, amino acids, and antioxidants.
This translucent gel has a cooling and soothing effect on the skin, making it a popular ingredient in various skincare and cosmetic products. Its additional healing properties have made it to be often referred to as the "first-aid plant".
The plant has many benefits and uses, one of which is for achieving spotless skin.
We shall be delving into how aloe vera can make your skin spotless. But before we do that, let's see the answers to some questions a lot of people have about the aloe vera plant.
What does aloe vera do to your skin?
This question brings us to the point where we delve into the main context of this article – Using aloe vera to achieve spotless skin.
One of the benefits of this plant to your skin is to make it look spotless with consistent use. By this, you have a healthy crystal skin.
To achieve spotless skin with an aloe plant, follow these steps:
First, obtain a fresh leaf. You can typically find them at grocery stores, health food stores, or even in your backyard. It is not rare to find.
Cut off a small section of the leaf. Make sure to use a sharp knife and be careful as aloe vera leaves can be prickly.
Slice the outer layer of the leaf to reveal the gel-like substance inside. Scrape out this gel using a spoon and transfer it to a bowl.
Wash your face with a gentle cleanser to remove any dirt or makeup.
Apply the aloe vera gel directly onto your clean face. You can use your fingers or a clean cotton pad to spread it evenly.
Leave the gel on your face for about 15-20 minutes to allow it to absorb into the skin.
Rinse your face with lukewarm water and pat dry with a clean towel.
Repeat this process 2-3 times a week for best results.
You can also use the gel as a spot treatment for individual blemishes or dark spots. Apply a small amount of the gel directly onto the affected area and leave it on overnight.
Always moisturize your skin after using aloe vera as it can have a slightly drying effect on your skin.
Consistency is key when using aloe vera for spotless skin, so be patient and give it some time to show its effects.
How To Use Lemon And Lime For Stretch Marks Removal
Stretch marks removal is very possible if you desire it. Stretch marks also known as striae, are a common skin concern that many people face. They often occur due to rapid weight gain, pregnancy, growth spurts, or hormonal changes.
While some people may love the stretch marks on their bodies as a natural part of life, they can be bothersome for some other individuals. Lemon and lime, two citrus powerhouses, contain properties that can help with stretch marks removal from your skin.
1. Lemon and Lime Juice:
Citrus fruits like lemon and lime are rich in alpha hydroxy acids (AHAs), which promote skin exfoliation and encourage the growth of new, healthy skin cells. The natural acidity in these fruits can help lighten and fade stretch marks over time.
Lemon Juice: Squeeze fresh lemon juice and apply it directly to your stretch marks. Leave it on for about 10-15 minutes before rinsing off with warm water. Repeat this process daily for noticeable results.
Lime Juice: Lime juice works similarly to lemon juice. Apply fresh lime juice to your stretch marks and let it sit for 10-15 minutes before rinsing. You can also mix it with a bit of honey or olive oil for added moisturizing benefits.
2. Lemon and Lime Sugar Scrub:
Exfoliation is one of the keys to reducing the appearance of stretch marks. Combine the exfoliating power of sugar with the brightening properties of lemon or lime for an effective scrub.
The ingredients you can use for this are:
2 tablespoons of sugar (white or brown)
1 tablespoon of lemon or lime juice
1 tablespoon of olive oil or coconut oil
Instructions on how to achieve and use this scrub:
Mix the ingredients to form a paste.
Gently massage the scrub onto your stretch mark-affected areas for a few minutes, then rinse with warm water.
Regular use can help exfoliate faster and improve skin texture.
3. Lemon and Lime Essential Oils:
Both lemon and lime essential oils have therapeutic properties that can benefit your skin.
They contain antioxidants and can be used in various ways such as:
Diluted Massage Oil: Mix a few drops of lemon or lime essential oil with a carrier oil like coconut oil or almond oil. Massage this mixture onto your stretch marks in a circular motion. This not only helps with the stretch marks removal but also moisturizes the skin.
Bath Soak: Add a few drops of lemon or lime essential oil to your bathwater. Soaking in this aromatic bath can improve overall skin tone and texture.
4. Lemon and Lime Peel Masks:
Citrus peels contain potent nutrients and oils that can help revitalize the skin.
You can create masks using lemon or lime peels such as:
Dried Citrus Peel: Dry lemon or lime peels in the sun and then grind them into a fine powder. Mix the powder with yoghurt and honey to create a paste. Apply this mask to your stretch marks and leave it on for 15-20 minutes before rinsing off.
Citrus Zest Scrub: Grate the zest of lemon or lime and mix it with a small amount of sugar and olive oil. Gently rub this mixture onto your stretch marks, then wash off with warm water.
5. Lemon and Lime Infused Water:
Hydration is highly needed if you desire to have a healthy skin. Drinking lemon or lime-infused water helps detoxify the body and promotes skin elasticity, which can minimize the development of new stretch marks.
So, in place of using lemon and or lime externally on the skin, you can choose to fight your stretch marks from the inside out.
Recipe for lemon and lime-infused water:
Squeeze fresh lemon or lime juice into a glass of warm water and drink it daily.
You can also add slices of lemon or lime to your water for a refreshing twist.
Lemon and lime are very effective natural remedies for diminishing the appearance of stretch marks. However, it's important to note that to get results, consistency is key.
Also, always perform a patch test before using citrus products on your skin, because they can be irritating for some individuals.
In addition to the use of lemon and lime, maintaining good eating habits and exercising regularly can also help you fight the appearance of stretch marks on your skin. This is also effective after pregnancy.
Clothing Colours for African Skin Tone
"Skin Tone" is a person's natural skin colour, which is mostly influenced by the kind and quantity of melanin that is found on the skin. The pigment melanin, which is generated by melanocytes in the epidermis (the top layer of skin) is what causes the differences in skin tones across various racial and ethnic groups.
People of African heritage can have a broad range of skin tones because of genetic variation and environmental variables.
Although these classifications are not all-inclusive, African skin tones are highly variable and may be generally divided into numerous groups:
1. Dark Brown to Ebony Skin: Deep, dark brown to ebony complexion tones are common among persons of African heritage. These skin tones stand out for their rich, deep colour.
2. Medium to Dark Brown Skin: Some people have skin tones that range from medium to dark brown, varying in richness and depth.
3. Olive to Warm Brown Skin: Some Africans have skin tones that lean towards olive or warm brown tones. These skin tones often have undertones of yellow or red.
4. Deep Reddish or Copper Toned: Some individuals have skin tones with deep reddish or copper undertones. This can give the skin a unique and striking appearance. In some cases, the skin may seem distinctive and stunning as a result.
5. Golden to Yellow Undertones: Some African skin tones have undertones that range from golden to yellow, which may make the skin look glowing and warm.
6. Rich Mahogany and Chocolate Brown Skin: And then, there are people with skin tones that resemble deep mahogany or chocolate brown.
It is crucial to bear in mind that individual preferences and personal style also play a big influence when selecting colours of clothes that compliment African skin tones. However, the following basic rules can assist you in selecting apparel colours that will complement diverse African skin tones:
1. For Dark Brown to Ebony Skin: 
These skin tones can be complemented by vivid and striking hues including deep reds, royal blues, emerald greens, and deep purples.
Earthy tones like browns and deep oranges can create a harmonious look.
Metallic shades like gold and bronze can provide a stunning contrast.
2. For Medium to Dark Brown Skin:
These skin tones' richness can be enhanced by jewel tones like sapphire, amethyst, and ruby.
Warm earthy colours like mustard, terracotta, and olive green might look good.
Avoid clothing that is too close in colour to your skin tone, as it may create a monotonous look.
3. Olive to Warm Bown Skin:
These skin tones can be complemented by earthy hues like warm browns, olive greens, and mustard yellows.
Pastel shades such as peach, coral, and soft pinks can provide a lovely contrast.
Avoid colours that wash out your complexion, like pale or muted tones.
4. Deep Reddish or Copper Tones:
Deep oranges, burgundy, and rust, as well as other warm, rich hues, can bring out the skin's crimson undertones.
Earthy tones like browns and olive greens can create a harmonious look.
5. Golden to Yellow Undertones:
These skin tones can be complemented by bright, warm colours like deep reds, burnt oranges, and mustard yellows.
Emerald green and sapphire blue are two jewel tones that may clash sharply.
Avoid colours that are too cool or washed out, as they may clash with the warm undertones.
6. Rich Mahogany and Chocolate Brown Skin:
Earthy tones like deep browns, forest greens, and warm reds can enhance the richness of these skin tones.
Metallic shades like gold and copper can provide a stunning contrast.
It is critical to keep in mind that these are only general recommendations and that individual tastes and preferences should always be considered. The easiest method to figure out what looks well on you is to experiment with different colours and see how they make you feel and compliment your skin tone.
In conclusion, the range of African skin tones, from deep ebony to warm brown, is extremely diverse. To develop a wardrobe that complements your natural attractiveness and gives you a sense of confidence and comfort, take into account both your skin tone and personal style preferences when picking the colours of your outfits.