Former Aston Villa Defender Jlloyd Samuel Dies In Car Crash
Former Aston Villa defender Jlloyd Samuel has reportedly died in a car crash.
The horrific news went viral this afternoon just hours before Aston Villa's play-off semi final second leg with Middlesbrough.
Samuel made over 240 appearances for Bolton wonders and Aston Villa and was capped twice at the international level for Trinidad and Tobago.
The news was officially confirmed in a statement from Trinidad and Tobago FA, who described how his 'vehicle caught fire' after a collision in England.
The statement read: "We've received some terrible news that former National defender and Ex-Aston Villa and Bolton Wanderers player Jlloyd Samuel died in a car crash this morning in England.
"According to reports, Jlloyd was returning home after dropping his kids off to school and collided with an oncoming vehicle.
"His vehicle caught fire and his body was discovered burnt.
"The Trinidad and Tobago Football Association and his former national teammates at this time extends deepest condolences to his family members both in the UK and here in Trinidad and Tobago."
Aston Villa tweeted: "We are deeply saddened to hear of the death of our former player Jlloyd Samuel at the age of just 37 in a car accident.
"Our players will wear black armbands as a mark of respect tonight and our thoughts are with his friends and family at this very difficult time."
While Bolton's official account tweeted: "Everybody associated with Bolton Wanderers Football Club is deeply saddened to learn of the passing of our former defender, Jlloyd Samuel.
"Rest in peace, Jlloyd. Our deepest condolences are with his family and friends at this difficult time."
Italian Journalist Marika Appeals For Unity And Love Amid Osimhen Backlash
Italian journalist, Marika Fruscio responded to the backlash she received from Nigerians on social media after earlier criticising Super Eagles star player, Victor Osimhen for deleting Napoli-related content from his Instagram account.
Marika Fruscio recently shared her hope for love and peace to prevail in an Instagram post.
At first, Marika had used social media to berate Osimhen for choosing to remove Napoli-related images from his Instagram account. She received harsh criticism from Nigerians for her remarks, chastising her for attacking the Napoli striker.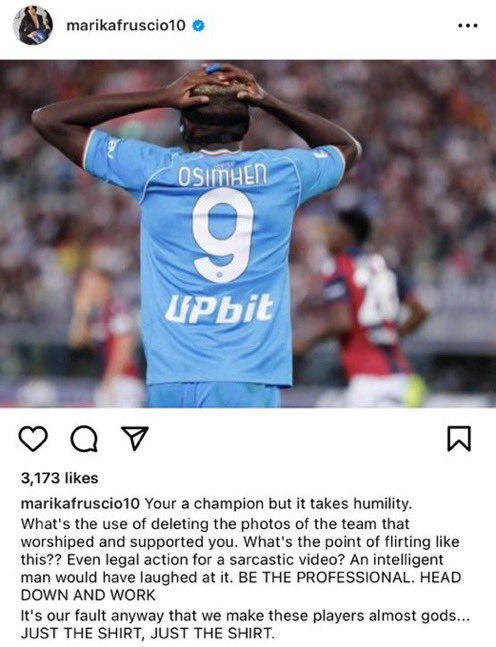 However, Marika Fruscio has since taken the time to address the criticism she received and has urged Nigerians to promote love and peace.
In her Instagram post, she described herself as a showgirl and also works in a TV program related to football. She clarified that her remarks and posts regarding Victor Osimhen were not intended to be offensive but were her personal opinion and should be taken as a personal suggestion.
Marika continued by expressing her admiration for Africa and the talents it has produced. She also praised the positive values of friendship and optimism that she has observed in Africa. In an era filled with negative news, she urged everyone to focus on promoting love and peace.
Check out more updates here.
Barcelona Faces Possible Champion League Exclusion
According to reports, Barcelona may be barred from participation in the renowned UEFA Champions League as a result of allegations of bribery. This development results from a string of legal troubles that the club has experienced.
Barcelona was formally charged by state prosecutors in March with a number of offences, including fabricating financial records, using dishonest administrative techniques, and taking part in sports corruption. The reputation and integrity of the club have been damaged by these allegations.
However, the problem just got worse when the referee committee's headquarters were raided by the police. This caused Barcelona to face bribery charges, which made their legal issues much more difficult.
According to sources, Barcelona may be disqualified from the UEFA Champions League, one of the most esteemed football championships in Europe, as a result of the most recent bribery charge. The seriousness of this allegation has prompted questions about the club's future in international football events.
In connection with payments of £6 million reportedly given to José Maria Enruquez Negreira, a former vice president of the Technical Committee of Referees, Judge Joaquin Aguirre is said to have charged Barcelona with bribery. Notably, Negreira and his son Javier Enriquez Romero have also been implicated in this case, along with previous Barcelona presidents Maria Bartomeu and Sandro Rosell. They have all been subjected to legal action.
Check more sports news here.
Napoli Issues Official Apology For Osimhen Tik Tok Incident
Victor Osimhen of the Super Eagles has received an official apology from Napoli, which clarifies the controversial TikTok post that seemed to make fun of the Nigerian striker's missed penalty against Bologna.
Osimhen and his representatives were quite upset by the video, which was initially posted on the club's channel but then removed after receiving harsh criticism. They even threatened legal action against Napoli.
Napoli has since issued a statement defending Osimhen and outlining the intentions of their social media post. The club emphasised that Victor Osimhen, whom they see as an important member of the team, was never the target of any offensive remarks or jeers. They emphasised that Napoli had adamantly rejected any offers for Osimhen to be transferred abroad during the summer transfer window, reiterating their commitment to him.
Napoli explained that the TikTok post was in line with the fun and jovial tone of the majority of the club's social media posts. They made it clear that it wasn't meant as a direct jab at their star forward. The declaration emphasised that, in cases like the one involving Osimhen, social media, especially platforms like TikTok, frequently use a joyful and creative form of expression without any malicious purpose.
Na this one vex me pic.twitter.com/JrjKyhweRu

— Xela Alexander Ab (@i_amxela) September 26, 2023
Furthermore, Napoli made it plain that they had no intention of offending Osimhen if they did so as a result of the tweet. The club apologised for any miscommunication that might have resulted from the situation.
Official Napoli TikTok account mocking Victor Oshimen with his penalty miss. 🇳🇬💔pic.twitter.com/Q1o30pexkQ

— All Sportz 🏀⚽ (@Allsportztv) September 26, 2023
After the social media argument with Napoli, Osimhen decided to delete any images of Napoli team from his Instagram account. He also made a point of not celebrating when he scored in the following game, a 4-1 triumph against Udinese. These events have raised questions regarding Osimhen's future with Napoli, and it has been stated that clubs in England and Saudi Arabia are keeping a close eye on the issue and may want to make a move during the approaching January transfer window.